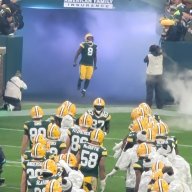 Opinions are like A-holes, we all have one.
Joined

Oct 30, 2012
Messages

29,830
Reaction score

6,362
Location
Imagine if the Packers would have drafted for the present in 2020. At least we are both consistent. You seem to be ok with that draft as it pointed to the future and you are okay with moving on for Rodgers as it points to the future. I hated that draft since I am a win now fan, and I didn't want to move on from Rodgers just yet for the same reason.
You are right, there were a lot of picks in that draft that ended up being duds. I'd Love to be able to repick most drafts, but that isn't how it's done. At least Gute seemed to have an eye towards the future and might have scored with the first pick of that draft.
I suppose he could have waited and used a first round pick on a QB in 2021, 22 or 23, but I doubt that would have pleased you either. Let's keep blaming no Super Bowls on the Jordan Love pick!
Round 1 (26): Jordan Love, QB, Utah State
Round 2 (62): AJ Dillon, RB, Boston College
Round 3 (94): Josiah Deguara, TE, Cincinnati
Round 5 (175): Kamal Martin, LB, Minnesota
Round 6 (192): Jon Runyan Jr., OL, Michigan
Round 6 (208): Jake Hanson, C, Oregon
Round 6 (209): Simon Stepaniak, OL, Indiana
Round 7 (236): Vernon Scott, S, TCU
Round 7 (242): Jonathan Garvin, EDGE, Miami (FL)