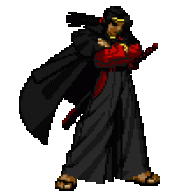 Joined

Dec 12, 2004
Messages

11,903
Reaction score

4
Location
at first glance koren looks a shade like andre rison
You must be logged in to see this image or video!
By Rob Demovsky

[email protected]

What's the definition of a bad guy?

Are you one if your college football coach wants you to move from running back to receiver, and you intentionally drop passes to make him think you can't play the position?

Or if you don't like school, and your coach has to suspend you on two occasions because of it?

Or if, instead of thinking for yourself, you tend to follow the crowd?

Does that make you a bad guy?

Now, what if you have a problem with alcohol and you like to drive fast — really fast — sometimes while drunk?

Maybe Koren Robinson is the last guy to ask, because he's done all of that, but he doesn't think any of it — or all of it — makes him a bad guy.

"I'm a good kid," Robinson said. "I get along with everybody. I respect everybody."

He says it in a way that makes people want to believe him. He looks them in the eye. He says it with a sincere smile. It's almost as if he can make people forget all he has done.

Almost.

What seemingly can't be forgotten is Robinson's lengthy list of legal and personal problems.

In 2001, the Seattle Seahawks made Robinson the ninth pick in the NFL draft following a successful, yet tumultuous, three years at North Carolina State.

The first sign of trouble in the NFL came two years later, when he was suspended one game for missing a team meeting. It was a harbinger of things to come.

In 2004, he landed in the NFL's substance-abuse program, then pleaded guilty to driving under the influence of alcohol, which, under the terms of the program, brought an automatic four-game suspension.

In June 2005, after four seasons with the Seahawks, including one in which he caught a career-high 78 passes for 1,240 yards and five touchdowns, they finally had enough. The Seahawks released him two days after he was arraigned on charges of driving under the influence and reckless driving.

Robinson entered an alcohol-treatment program, and then last season signed with the Minnesota Vikings. It seemed he had turned around his life. He went to the Pro Bowl as a kick returner after averaging 26 yards and scoring one touchdown while running back kickoffs. As a backup receiver, he had 22 catches for 347 yards and a touchdown.

The Vikings weren't convinced Robinson's troubles were behind him, but they liked him enough to give him an incentive-laden contract that could have paid $12.7 million over three years. One of the safeguards of the contract included a clause that paid him $81,000 for every game he was on the roster. They were going to make him stay clean in order to get his money.

The relapse came a little more than a month ago, on Aug. 15, when police caught him driving more than 100 mph on his way back to training camp in Mankato, Minn. He was racing back to make curfew and led police on a 13-mile chase. When he pulled over, he had a blood-alcohol content of 0.11 percent, which was over Minnesota's legal limit of 0.08 percent.

Which brings us to today, when Robinson is expected to make his debut for the Green Bay Packers at Lambeau Field against the New Orleans Saints.

Packers General Manager Ted Thompson, who was part of the management team that drafted Robinson in Seattle, is giving Robinson a chance, perhaps his last chance. Those who know Robinson pray he takes advantage of it, but none of them can be sure he will.

"I don't know. That's a hard question," said Mike O'Cain, the coach who brought Robinson to North Carolina State and turned him into a receiver. "You sure hope so. You're praying for him, because you see such a gifted young man that virtually could have the world by the leg if he would do the right thing. You sure do hope he can get things turned around."

O'Cain will be the first to tell you he doesn't think Robinson is a bad guy. Like many others, he fell in love with Robinson's engaging personality and, of course, his athletic ability.

"He was an outstanding young athlete," said O'Cain, who coaches quarterbacks at Virginia Tech. "He could run, he could jump, and he could catch. We felt he would be the type of young man that, if things didn't pan out at running back, he could be a receiver or a free safety. After a couple of days (of practice), we moved him to receiver, and he didn't particularly want to move."

That's when Robinson tanked it. But O'Cain wasn't buying it, and told Robinson he was staying at receiver. After redshirting his first year, Robinson quickly blossomed at his new position.

As the same time, he started getting himself into trouble. As far as O'Cain knew, the worst thing Robinson did in college was cut classes. But to O'Cain, that was bad enough, and he suspended Robinson for 1½ games. Robinson drew another suspension a year later from coach Chuck Amato, who succeeded O'Cain and coached Robinson for one year.

"He had some troubles, but it was all related to not going to class," O'Cain said. "It didn't have anything to do with going out and getting into trouble, getting into a fight or stealing or being involved with alcohol or marijuana or anything like that. He just didn't like school.

"That was evident in his decision to come out early. As it turned out, it was a good thing for him, because he was an early draft choice but probably maturity wise, he wasn't ready to come out. He probably needed to stay there and get another year of school, but that was just not going to happen."

The Seahawks, like all NFL teams, were aware of Robinson's reputation for skipping class when he left N.C. State and entered the draft. But they thought he came across as an engaging, fun-loving kind of a guy who was confident in his abilities.

"We saw him as being a good fit for our team, which was a young team we were building at that time," said John Schneider, a personnel analyst for the Packers who worked in the Seahawks' scouting department at the time.

Schneider said they weren't aware of any problems Robinson had with alcohol.

When he got to Seattle, he fell in with a group of players that was known to party heavily, something that didn't surprise O'Cain.

"I can see that," O'Cain said. "He's not a leader at all. He's a follower — a guy that's just out looking for a good time. I wasn't surprised just because of the way he is. Koren's a loosey-goosey, happy-go-lucky, everything's-good kind of guy."

In a locker-room interview this week, Robinson said he's not aware of any history of alcoholism in his family, and was surprised that he got caught up in drinking. When the question was posed, his smile disappeared, he dropped his head and spoke in barely more than a whisper.

"That's why you go through the counseling and pinpoint why," Robinson said. "I wasn't doing that in high school or anything. It all happened in the NFL."

Robinson probably never will make back the money he's thrown away. His contract with the Packers will pay him league-minimum salaries of $585,000 this season and $595,000 next season. Incentives could increase the value of the deal, but it never will come close to the nearly $13 million he could have made in Minnesota.

He has surrounded himself with a team of advisers, lawyers, family and friends to try to keep him straight. One of those helping him is former NFL safety Felix Wright, who runs a consulting business called Sports Trust, based in Cleveland. Wright is a financial planner and mentor, and he began working with Robinson two years ago.

"Some people have addictive minds," Wright said. "You just don't always know how some of those guys work. The last couple of episodes, he hasn't been strong enough to pull himself away from those situations. Hopefully, next time he can.

"I'm helping him out in (the financial) area, and I want to help him in the other, but I don't have that expertise. I don't know how to help a person who has that disease or that issue. Hopefully, one day maybe he'll figure it out himself, because he's been given ample opportunity. The NFL sends these guys to certain (rehabilitation) facilities, but it doesn't seem like those facilities work. I don't know if they're just band-aids, but it doesn't seem like it works."

Robinson still is facing legal issues stemming from his arrest last month in Minnesota and because he already has violated the NFL's substance-abuse policy, he's subject to another suspension, possibly for an entire season.

"It's up in the air," Wright said. "We've got some attorneys that are working on that and hopefully it will work out in his favor. We're pretty sure he's going to be able to play this season."

Robinson, 26, recently married a woman named Joy, who is the mother of his nine-month old son, Koren Jr. He also has a 4-year-old son, Cameron, who lives back in North Carolina. When asked about his family, Robinson raised his head, his smile returned and his voice projected.

"He's very easy to fall in love with," O'Cain said. "I've told a lot of people that. He's a very likeable young man. He's not a bad guy."