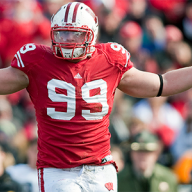 I take offense to that sir.
Joined

Nov 10, 2020
Messages

1,024
Reaction score

525
I don't know what the compensation will be in Rodgers' case. But the point is that the trade value of a QB who is perceived to still be very good is always going to be super high. The Seahawks getting a huge haul for Wilson wasn't an aberration.

The Lions got two 1st round picks, a 3rd, and Goff for Stafford.

The Broncos got two 1st round picks, a 3rd, and Orton for Cutler.

The Bengals got a 1st and a 2nd for Palmer.

The Texans got three 1st round picks, a 3rd, and a 4th for Watson.

Rodgers is one year removed from back-to-back MVP seasons and did not show any physical decline in 2022. You discount it some for his age, sure. But the market is what the market is.
I disagree that Rodgers did not show any signs of physical decline. He did not throw for 300 yards in a single game in 2022. I'm not a Rodgers hater. I appreciate what he has done for the franchise. He's been very entertaining to watch. I for sure think that he could still start for many teams in the NFL, but I do think that it is time to move on. I think the big difference between the examples you gave are the age of the QB's. Stafford was 33, Cutler was 26, Palmer was 34 and Watson 26. I don't know for sure, but I think those teams were thinking longer term than 1-2 seasons when they made those trades. Definitely Cutler and Watson. Arizona got 5 years out of Palmer. Stafford might be done due to injury. That one is yet to be determined. The Bears got 8 seasons out of Cutler. Watson is also yet to be determined. I totally understand your point. I just think a team is less willing to give a large amount of assets for what would most like be 2 seasons tops. You could be right and I would be happy to be wrong if they got a couple of 1st round picks for him. It will be interesting to see how it all plays out. In the end, I bet he stays and plays for the Packers for another season, which wouldn't be horrible either.