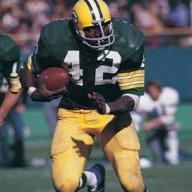 Joined

Jan 21, 2017
Messages

11,371
Reaction score

2,305
Okay, let me first just say that I would have been more than fine with a WR in round 1 last night if the right player or move presented itself.

But someone help me understand this.

The Packers have a fantastic track record of taking receivers after round 1 and developing them into fantastic NFL players.

And yet a certain, large segment of the fan base is obsessed with the idea that they must take one in the first round.

Why?

If your team has demonstrated this ability to find great players at a particular position outside of round 1, in what world does it make sense for them to force a selection of a guy at that position in round 1? That's so irrational.

It's like someone who is really savvy at finding excellent deals on lightly used cars and they decide to go pay the premium for one on the dealer lot because... they haven't done it that way for a while? Makes no sense.

And it makes even less sense this year when the WR market has been artificially inflated by bad franchises giving out bad contracts.

Honestly, my best theory is that people have listened to media types say "no 1st round receiver since Javon Walker" so many times that they just accept that statement as being really important and meaningful without even thinking about it.