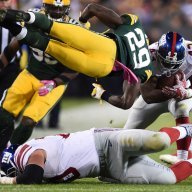 Joined

Mar 13, 2014
Messages

833
Reaction score

189
Location
I just thought I would revisit the ever-popular topic of injuries and the major impact they have had on our teams in years past. As we all know McCarthy and Co. implemented a new program this year in hopes of eliminating the rash of injuries we have become accustomed to seeing year after year. I have not heard much by way of praise for the new system and the seemingly positive impact it has had on the team. The Raji injury was the major one and to be honest when it happened I sort of had that "here we go again" feeling. As the season progressed I kept waiting for something catastrophic to happen and never really did to my surprise. The O-Line has been intact pretty much all year and the results of that aided us in finishing the year at the top of PPG ranking offensively. Beyond the production the simple fact that the guys have had all these consecutive games to gel is a big reason I feel good about our chances in Seattle. Claymaker has a nagging injury every year it seems and other than normal wear and tear he held up great this year. 12's injury is one of those fluky things and there's no way to avoid fluke. Datone Jones and Nick Perry are perma-injured so I am avoiding them on this thread.

The reason I created the thread is because the new program and the past snake-bitten seasons were a big talking point in the off season into the regular season. Well, the proof is in the puddin' and I would have to say the program worked well and Coach Mike deserves some credit for thinking outside the box and trying something new in hopes of having as healthy a season a pro football team can have. Keep working hard and another trophy is just 120 minutes away boys.
In the words of Blake from Glengarry Glen Ross, "ALWAYS BE CLOSING..."
Go PACK Go!