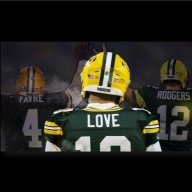 Joined

May 2, 2012
Messages

6,060
Reaction score

827
Had a discussion with a fellow Packer fan and we started discussing what is shaping up to be an interesting off-season...yes very early...perhaps too early, but for what it's worth this was the discussion:

-Boykin, if he continues to mature and grow and show he's more than capable to serve as our #3 guy, James Jones (beloved as a fan myself) will not be wearing a G next season and will save us money.

-The play of Jolly and hopefully continued progress of Wilson and an outside chance that Pickett signs a team friendly contract to stay in a familiar place to play out career...Raji could be the odd man out, based solely for business reasons. I love the guy, but is he truly worth the amount of money he's going to garner?

-Bahk at LT and the increasingly above average play out of Barclay is fixing to potentially shake things up after this year....Bulaga and Sherrod (Bulaga especially) have to re-enter the OL next year....Is it possible one or both end up as backups.

-OLB/ILB....the play of replacements especially Lattimore has us excited about the future....we didn't state anyone is going to lose their job, but DC may have more ability to rotate packages in and out more.

-TE...this one intrigued my friend more than me. He is not a Finley fan, but never wished what happened on him...but he said this could be the best thing that could have ever happened in the long run for Finley and the Packers. This undoubtedly will lower his asking price, incentive laced contract would be best (all if healthy obviously)...Packers save money and Finley will seek to overcome the doubts that will undoubtedly exist. The dude was having a great year and now will have time to rest, recover and hopefully come back driven. Meanwhile my buddy has "Q" pegged as our next rising star outside of Boykin...he swears Quarless is going to be an awesome all around TE and will not be going anywhere soon...me I like the Stoneburner kid's potential, but won't say he'll be starting anytime soon in the future.

-RB....many forget and for good reasons we even have D. Harris albeit inactive due to injury....If healthy and can come back I am betting either him or Franklin will be dealt to another team for a 4th-7th round pick depending on market and demand, but TT loves picks and Starks is the perfect role backup (helps his health) and Lacy is locked at 1....no need for both Harris and Franklin.

-CB.....Tramon Williams is gone, to me the writing is on the wall. Shields, House, Hyde, Heyward once healthy all seem to be better or younger/cheaper options that can perform then what Tramon costs....I seriously doubt he's wearing a G next season unless we can't seem to get Shields locked in long term and TT thinks there is a chance we lose him.

All around I am just as frustrated with the injuries as the next Packer fan, but when analyzing what is happening I'm encouraged. As guys like Perry, Matthews, Heyward, Cobb and others get healthy we will by then have seriously experienced back ups ready when called for spells during hopefully a push at the end of the year for the division and then right through the playoffs....then on into the offseason we may just have given TT and company the luxury of knowing more about our future then they would have had everyone stayed healthy; making it possible for TT to pull the plug on some guys then rather than signing and regretting later.