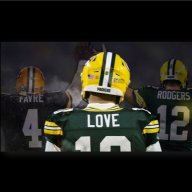 Joined

May 2, 2012
Messages

12,222
Reaction score

3,872
I am going to go as far as to say we will find a trade partner in Denver this year in some fashion and scenario before the draft is done...maybe after.

Here are 4 scenarios it all makes too much sense that they are a trade partner for us:

#1 - Aaron is Hackett's QB1
Let's face it even last year, but definitely well before Nathaniel Hackett got hired as the Bronco's HC - Denver was a favorite in the potential Aaron Rodgers sweepstakes. In a trade scenario for a team to get Rodgers they have to have cap space (they do), draft equity (they do), the ability to possibly also add Davante (they do) and an attractive roster (they do). Sitting presently with the fourth most cap space they can easily afford Rodgers and even give him Adams for a year or two as they go all in together chasing a SB. With the 9th overall this year, two seconds and two thirds this year the draft equity is there for sure - and even still have one or two top 100 picks this year to add to a now Rodgers led team that also happens to be coached by a coach Rodgers adores and is familiar with. It makes too much sense, that if Rodgers is done in GB that Denver is the clear favorite. *kicker is Hackett may have insider information about just what Gute believes should be given for Rodgers...

#2 - Davante Tag and Trade...
Hackett more than nearly anyone not coaching in Green Bay realizes the immense abilities and weapon that Adams can be for an offense - and with the luxury of the money to spend on him till some of their young talent on rookie deals need signed Davante easily could be brought in. You gotta think Adams would like seeing a familiar face as well if he is going to have to leave Green Bay and his QB Rodgers - this is the next best thing AFTER perhaps playing with his friend and college QB Carr in Oakland.

#3 - Trade During Draft IF Denver Doesn't Have a QB in FA/Trade or with their 9th pick...
Denver doesn't always draft what folks think they should...so if the scenario unfolds that Denver goes a defensive stud or perhaps another offensive weapon at their 9th overall pick (or even if they trade back) they should for sure be a team to communicate with at 28 to trade back and pick up some equity for their 40th and maybe their late 3rd rounder....I like this scenario if we somehow keep Rodgers and especially if we manage to keep him and Adams....with that we need as many top 100 picks we can to hopefully provide help and this could be the difference between being more likely to find a RT plug and play rookie...an EDGE to assist Gary (maybe even two)....a viable pass catching TE weapon and such...

#4 - Hackett Wants a Certain Player
It is also possible that Hackett might have his eye on a lower grade player that he envisions growing and being awesome in Denver with him. Perhaps he loves a Deguara type...or maybe Turner he sees as viable stop gap along their line or such. Hackett's knowledge of our roster intimately could make him know who may just do well with a change of scenario or whom isn't quite the fit for MLF but may thrive for him.


If you told me Ty place a bet on what team we enter into a trade with this Spring it would 100% be Denver, there is just too many reasons why at some point this could happen.
Last edited: