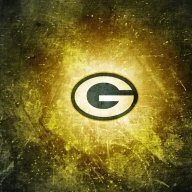 Joined

Aug 20, 2014
Messages

78
Reaction score

7
I've got two things to say:

1) I'm tired of seeing you guys guarantee wins throughout the week. It is absolutely idiotic to "guarantee" a win in a professional sport because you NEVER know what will happen. Anything can happen. It irritates the hell out of me to see people say "The Packers win this one easy...40-24" or "The Cowboys don't even stand a chance". You guys make these stupid guarantees based on "best-case scenarios" as in the Packers are on their A+ game that day. The problem is the Packers are very inconsistent at times and you never know what team you will see or when you will see it. Games that should be easy, are not and games that are very tough, the Packers win easy. You just never know. Which is why I hate these stupid guarantees because as we can see today the Packers are completely off their game. It isn't that the Cowboys are playing great, it's that the Packers pass D is getting trashed, their run D is doing "ok" and their offense is sucking big time.

Bottom line: Cut it out with these stupid *** predictions and guarantees because then come game time you guys make a complete 180 and say "OMG the Packers will definitely not win this game".

2) I'm so sick and tired of seeing complaints every single week about Aikman, especially in the shoutbox during games. I see the same people every single week and up to 10 different times every single game mention Aikman. It gets so old and repetitive. I get it, we all get it, you don't like Aikman but you don't have to remind us day in and day out, week after week, play after play "omg Aikman shut up" "Aikman just said...." "Aikman is an idiot..." "Why does Aikman..." Here is an idea, if you hate him so much mute the damn TV.

This is why I'm going to stay out of the shoutbox from now on. I'm sick and tired of seeing a lot of you people complain about Aikman and I'm REALLY tired of seeing people guarantee things and then watch the Packers fall flat and see those same people do a 180 and go against every single thing they said during the week.

That's it. I honestly don't care whatsoever what any of you say in response to this thread. This is a fact and what I have seen and many others have seen. It's annoying plain and simple.