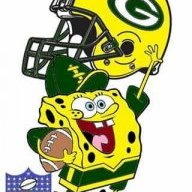 Joined

May 10, 2016
Messages

26
Reaction score

5
"Looking into the crystal Cheese"
Hello all I'm Brendon Bentley. I'm an aspiring young writer who loves the NFL an wants to gain more experience. My writing isn't great but I thank you for all your feedback. I will be writing about all upcoming events from the summer throughout the season.
Aaron Rodgers. 32 years young, 1 super bowl, has packer country in the palm of his hand, and rightfully so after carving up each team week by week like its Thanksgiving
24/7
.
With the return of Jordy Nelson this year we will see the the wide receiver class that has the talent to put up 30 + points per game. We will see the following in action also Adams, Cobb, Janis, Davis, Montgomery, along side the big addition of Cook at tight end.
Eddie "Big" Lacy looks to be back around 230 pounds an ready to be a force behind Rogers and should be up for 1000+ season to prove he will be a elite level back.
The Defense side of the wonderful Green and Yellow faithful looks to be back strong with the presence of Clay Matthews, Ha Ha Clinton Dix, Sam Shields, Nick Perry. An yet he is old he has some push left in the trenches I do believe Julius Peppers will give it all he has once again.
I think we might have a young Devin Hester on hands with the addition of Trevor Davis if used in the return game. His blazing speed from Cal should translate on to the frozen tundra. With mason Crosby kicking through the uprights nothing is worried about in the kicking game. A rookie out of Minnesota Peter Mortell will challenge Masthay punting this season.
The schedule isn't easy, the division is loaded up ready to come out guns blazing as usually. Who will be ready for the task?
Until next time
Captain
Cheddar.