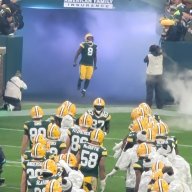 Opinions are like A-holes, we all have one.
Joined

Oct 30, 2012
Messages

30,668
Reaction score

6,885
Location
Punts are a critical, game changing play for a team to flip the field, whereas kickoffs are now a "formality". Yes, an occasional kickoff return is exciting & can change a game, but those instances are few & far between. Punting can change a game, when an offense is struggling a good/great punt forces the other team to start deep in their own territory, giving team A's defense a chance to make a stop or turnover greatly helping team A's struggling offense.

Kickoffs are a play where you can generally hit the bathroom or go load-up your plate in the kitchen & not miss much/anything.

Punts, however, are a strategic play that can frequently change the flow of a game, IMHO.
Oh I totally agree. I was just making the point that I would guess that there are more injuries on punts than KO's. So if the NFL is changing the rules of KO's under the guise of "making the game safer", I would call it more of a PR move, than really trying to fix things.
All that said, I agree with Voyageur and others though, the head injuries need to stop or be reduced drastically. If the KO is to become just a "ceremonial" thing, then get rid of it all together, because the danger is still there. The only problem is what do you do about onside kicks and how they can totally change a game, as well as add a ton of interest at the end.