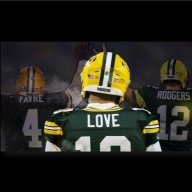 Joined

May 2, 2012
Messages

11,616
Reaction score

3,476
Last night had a buddy pose a question to me, "If you were tasked with writing an article on who you feel are the three guys that are overachieving expectations for the Packers who you got and why?"

It's tough, when limited to three...but I'll share my quick list that popped into my head in no particular order and then breakdown why I chose who I did. Love to hear others thoughts so far in the season:

Royce Newman, Preston Smith, De'Vondre Campbell, Jonathan Garvin, Jon Runyon, Yosh Nijman and Krys Barnes

My three, again in no particular order per say are:

PRESTON SMITH - Now look, I know many are judging him based upon his sack numbers alone, and while his sacks/pressures are down lower than we might want. Preston's ability to set that edge of his consistently has been something to behold this year. He looks fresh and motivated similar to his first season here rather than last (terrible). The dude is delivering against the run at a level I am not even sure is sustainable - but hope it does. I expected Preston to possible bounce back from 2020, but the degree to which he has is compounded even more by the amount of time/snaps we've needed him to handle with Z's absence (Rivers even to lessor bit). Preston Smith has played to a capacity where if I'm the organization I'm willing to sit down and see what or how we could construct an extension IF money allows and can be set up friendly to the team - that is coming from me, and advocate for cutting Smith last season and someone that before the season would have said you cut him next offseason with out question. PFF grades for Preston for those curious are 73.9 OVR - 90.2 RunDef - 56.1 PassRush

De'VONDRE CAMPBELL is clearly a guy I feel most have to put on this list. De'Vondre a street free agent pick up beyond the time where compensatory picks were even impacted is playing like a man possessed this season. Barnes has been solid, but missed some time, Campbell has delivered in any aspect he has been called to attempt and then some. Leads the team in tackles with 65% of those being solo (again team leader), interceptions to boot as well. PFF grades are 84.8 OVR - 85.4 RunDef - 59.8 PassRush - 80.6 Coverage <---he isn't asked to rush much so that figure is in my opinion lower merely because of that, but those are excellent numbers for any team at ILB. He is clearly another guy that should GB have the ability, should garner a table talk about future with him...either way the crazy thing is if he doesn't play in GB I gotta think he has shown worthy of a good contract which could cause a return of late Day 3 pick in compensatory possibly.

JON RUNYAN - This guy was in a battle for a starting spot, and while many of us pictured him winning one of them possibly, I don't think any of us envisioned him doing quite so well. He is our highest rated Pass Blocker so far a month through the season (and that includes Jenkins albeit limited in game count) at 82.2. That is an incredible figure and for a team that relies on the arm of the QB to win games so much is awesome to see out of just a second year guy - whom was a 6th round pick. If he can improve his run blocking (59.5 PFF grade) and start winning on rush snaps more (last game was rough one) Runyan very well could make an argument for showing signs of being our 3rd best OL (Bahk/Jenkins clear top two). I can still remember being astonished he was still there in the sixth, and will forever be ecstatic we nabbed him - appears could be for many years to come even.

Who you got as your three - no going beyond three, as it forces you to choose.