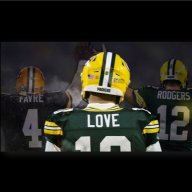 Joined

May 2, 2012
Messages

12,222
Reaction score

3,872
I've read a few articles, reviewed statlines myself and just thought some may enjoy some items in the rear view mirror many might not realize from the 2021 season:

First a few from an article over at Packerswire:

17, or the total number of passes dropped by Packers pass-catchers this season. They dropped 30 last season. Davante Adams had only four on 166 total targets. Allen Lazard (3) and Aaron Jones (4) weren't perfect, but Marcedes Lewis, Randall Cobb and Marquez Valdes-Scantling were (0 drops on 114 targets). CAN SOME OF YOU READ THAT LAST BIT, AND THEN RE-READ IT - MVS HAD ZERO CREDITED DROPS

The Packers were the second-best tackling unit in 2021, missing only 93 tackles over 17 games.

249 pressures, or the amount created by the quartet of Rashan Gary (81), Kenny Clark (64), Preston Smith (62) and Dean Lowry (42). The Packers were the only team in the NFL with two interior rushers producing at least 40 pressures and two edge rushers producing at least 60 pressures. The Packers had only 251 total pressures as a team all of last season.

--------

AJ Dillon, despite only being the starter in two games to Jones' 15, he was the Packers leading rusher this year.

We were also I believe, announcer said it in the Lions game, the only team with two 1,000 total yard running backs that each rushed for 700 yards as part of that. *Jones had more TDs through the air than on the ground.

Aaron Rodgers was the only "receiver" on the team to have a negative yards per catch and yards total for the year.

Mason Crosby hit a higher percentage of field goals over 50 yards than he did than between 30 and 49 yards.

Rashan Gary after missing 12.5% of tackle chances rookie year, lowering that to 2.8% last year...this year dude did something almost impossible at 0.00%.

Quarterbacks on the Packers accounted for 35% or 6 of the 17 total fumbles by a player this year. Running backs only accounted for 4 total or 23.5%

Only two players had over 1,000 snaps this year - Runyan and Newman....it was Aaron's first year not hitting that mark since 2017, which wasn't a full year for him due to injury.
Last edited: