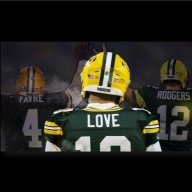 Joined

May 2, 2012
Messages

10,988
Reaction score

3,110
Speculation of course is what surges to an all time high this week. Many make outlandish predictions just to catch an eye or an ear...but here's your chance to share one or two honest "takes" you predict or think truly have a chance of occurring.

Example of what I wouldn't consider worth sharing or fitting the description: We take five WRs.


I'll go first...

Saying Gute will not hold onto to his current picks without a trade is like predicting water is wet...but I'll take it a step further. I believe due to Day 2 picks we will add four players. It may shake up in numerous ways from a trade back out of the first adding a fourth pick...perhaps packaging our two Fourths to get in back side of the third....could be a trade back and a Waller pick trade where our 59th becomes Waller and a trade back from 28 adds a day 2 pick and we walk away with Day two picks making three rookies and Waller Packers.

My second prediction is that we will not draft more WRs than we do secondary defensive players. Jaire's contract is looming....we have no clear 4th or 5th CB and zero starting safeties are signed past this year with no heirs appearing to be on the roster currently.