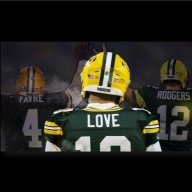 Joined

May 2, 2012
Messages

11,662
Reaction score

3,509
This is tough to ONLY provide one guy in each line, but was a fun exercise. The rules are if you want to play as well as follows:

You list of player for each day (NOT ROUND) must include the following: QB, RB, WR, TE, OL (can be any position), S, CB, ILB, OLB/EDGE, DL. So you should have 10 players per day and ONLY 30 names overall.

You cannot put same player for multiple days - example plays out of this for me personally Pickett is my Day 1 by default, but I believe should be a 2nd rounder...but I cannot put same name twice.

If you want you can explain your pick, like "not the best safety prospect on Day 3, but I believe his ceiling to be the highest of those remaining as illustrated by...and continue on"

My List:

DAY ONE

QB - Kenny Pickett, I don't believe he is first round material, but to stay inside parameters he is the top one IMO for Day 1
RB - Isaiah Spiller, I am very high on him in an otherwise deep and low level positional value position.
WR - Chris Olave, despite constant additions of round 1 talent at Ohio State he continued to produce every single year - enters the WR room as WR1 arguably anywhere that drafts him (places that he wouldn't be won't draft him).
TE - Trey McBride, I don't like any of them for first round personally, but like Pickett he is my #1 atm.
OL - Evan Neal
CB - Ahmad "Sauce...I don't give up touchdowns" Gardner
S - Daxton Hill....I am not saying he is a better safety presently than Kyle Hamilton, but I love everything about Hill and feel he could easily become the best safety drafted in this draft class and he is my favorite day 1 safety.
ILB - Devin Lloyd
EDGE - Hutchinson...dude is a FREAK in the best way possible.
DL - Wyatt...I prefer him over Davis.

DAY TWO

QB - Matt Corral, this dual threat QB may surprise some folks
RB - Pierre Strong, I've been on his bandwagon since last fall...I believe the guy is special.
WR - Kyle Philips, I foresee this route technician working his way into the stat column for any team in the entire league on the regular by the end of his rookie year.
TE - Jeremy Ruckert - My highest floor all around TE in the draft.
OL - Zach Tom, one of my favorite OL prospects after the top 10 or so. I see him as a starter in the league for a long time.
CB - Kair Elam
S - Pitre,
ILB - JoJo Domann, there were others I thought of but gave a nod to a lesser talked about guy that I like.
EDGE - Arnold Ebiketie
DL - Travis Jones

DAY THREE

QB - Jack Coan
RB - Shamari Brooks, exceptionally productive back breaking 1,000 yards the last two seasons played (19'20') for Tulsa but also over 1500 over his first two seasons. He is a one cut and go or no cut and hit type back that is very productive.
WR - Tyquan Thornton
TE - Charlie Kolar, I personally believe Kolar could very much be that inline Y type tight end that also serves as a legit threat in the passing game - every bit of what Tonyan grew into for the 2020 season and is going to attempt to re-do in 2022.
OL - Matt Waletzko, Incredibly long arms (36+) with multiple experiences but appears to be a pure tackle prospect.
CB - Isaac Taylor-Stuart
S - Dane Belton, Not who I have as the best safety, but I am VERY HIGH on Belton and he is my favorite safety prospect from an expected value to draft spot stance. Personally I only show Hamilton, Hill, Brisker, Pitre and Cine as the only clear clean cut better than him safeties.
ILB - Brandon Smith
EDGE - Jeffrey Gunter
DL - Thomas Booker, very athletic and consistent four year starter/contributor for Stanford that I suspect has a very high floor, with an albeit lower ceiling than some. He is the type of prospect that in eight years you're thanking for consistent and dependable playtime handling anywhere from 30-80% of the snaps depending on what the position group demanded of him.