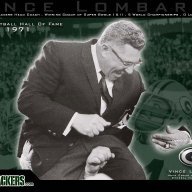 Joined

Jun 11, 2012
Messages

1,192
Reaction score

203
I don't think run first when I think 4-3. 4-3 is fundamentally a pass-first defense.

Tracking the history and evolution of defense is hard. What lead to what is often lost to the history of time. And even when we can track it, or parts of it, we don't know why.

One common story as to how the 4-3 came to be, at least one I heard, as a team running a 5-2. The team they were facing keep completing short routes over the middle. As this is an old story, the route wasn't clearly explained. The middle man in the defense, somewhere between a NT and MLB, had the assignment of jamming the center and the dropping to cover the middle. After getting burned for a few plays, he stopped jamming the center. At the snap of the ball, he just dropped. Proceeded to collect a bunch of interceptions, and the game was won.

That history aside, let's talk about *why* the 4-3 is a more pass-centric defense.

1. You have fewer and/or smaller defenders closer to the ball. In a 3-4, both "ends" are lined up no wider than the outside shoulder of the tackle. In old-school, 2-gapping 3-4s, they were headup on the tackle. In modern, shaded 3-4s, you have a 3T, a 1T, and a 5T, which matches most 4-3 under defenses. However, the weak ILB is closer to the ball.

2. The biggest 3 of a 3-4 are typically bigger than the biggest 3 of a 4-3. 4-3's NT, 3T, and strong end vs. 3-4 3 down linemen.

3. In a 4-3, your defensive ends are typically lined up wider to give them better rushing lanes. That's good, but it does create some softer spots in the front 7.

Regarding your second point:

In both a 3-4 and 4-3, 4 is the base rush. You always expect the back 7 to clean up the pass. Your linebackers are involved with run defense (otherwise play action wouldn't work) in either scheme. So again, what's the difference?
Well again look at a few of the great defenses. The Bears 46. The front 4 and Singletary could just not be blocked. The Steel Curtain with Mean Joe. Now 3-4s can be better suited to running QBs like Michael Vick who depend on escaping 4 down linemen and then using their speed. At the time of the big front fours in the sixties you had MLBs like Nitschke, Sam Huff, and Joe Schmidt. Then Butkus came along. The 4 in the 4-3 enabled them to ploy their super talent. But also at that time there was only one QB who presented problems for those defenses with his feet. That was Fran Tarkenton. He created new problems for 4-3 defenses.