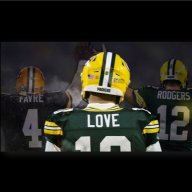 Joined

May 2, 2012
Messages

12,850
Reaction score

4,262
Lot of discussions of the future, and for good reason, are occurring across the Packer landscape...Love proves to potentially be a future Packer guy to hitch the wagon too causes a trickle affect outside of his position....he falls flat on his face a massive actual rebuild may unfold.

With that in mind 2023 is not just a big year for him....but many others. Just for reference here are the list of guys that are in actual contract years and potentially "current contract" year type guys:

Actual last year in contract guys:

AJ DILLON - If he is everything he showed in 2021, GB would be smart to find a way to keep him....and he 100% wants to be here - which he has doubled down on recently in the news via quotes from his very mouth.

RASHAN GARY - I suspect Gary's camp hasn't signed an extension yet due to him wanting to prove further yet he is everything he was prior to injury, now after. If he is, Gary extension almost has to happen...

DARNELL SAVAGE - Contract year...but I wonder just what kind of contract he could even play his way into...he does well, there is still massive roller coaster years on his resume...for the life of me I kinda just want off even if I'm ecstatic for him if he is having a good 2023 season. I'm also in the club of paying a hungry Ford / Leavitt / Nixon / Moore or Owens should one emerge with promise at this point.

JOSIAH DEGUARA - Even if Musgrave and Kraft seem to click...what is the best pairing with their TE types? A true solid H Back variant, at Josiah's ceiling he is everything to our offense Kyle Juszczyk is for the niners...at his worst he is replaceable with an athletic smaller TE or athletic throwback FB type in next year's draft. Many know I love what Deguara brings to the table and IMO when the bell has rung for him he has delivered true TE 2 and TE 3 numbers. His role won't command a ton and Gute and Co. would know the TE cost is going to be low for a sometime outside him with Kraft and Musgrave just drafted - 2023 could lock Deguara into a team friendly (but also security for him) two or three year deal which is easily defendable from both sides.

YOSH NIJMAN - I still argue Yosh is perhaps the most pure profitable trade candidate on our roster in that he plays a highly impactful position, has proven NFL starts on his resume, comes with a low cap hit to the acquiring team, is still under 28 years old.....if a competitor has a tackle go down there is a solid chance you might be able to spin this UDFA who is making only $4M this year into a 3rd round pick...or picture a package deal of Yosh and say a 5th or 4th for a teams 2nd rounder...Yosh is playing this year for a big pay day...but shockingly Zach Tom could block him from being in the starting 5.

PAT O'DONNELL - Contract year for this 32 year old punter to me, that if he has a solid year I think Bisaccia could give the nod to Gute that says "Keep what we know works...".

KEISEAN NIXON - They brought him back on a one year "prove 2022 wasn't a fluke" type deal and a chance to prove he is more than just a lethal ST weapon. Nixon proves that...I think we get bid out of the Nixon FA discussions next year....if he proves to come down to earth and be middle of the road defender....that's worst case and tough to decide a future move on.

JON RUNYAN - Runyan has been Mr. Consistent since coming here....however sadly while perhaps progressing each year, it has been very incremental IMO. This high floor, NFL experienced starter to me is tough to speculate the risk of letting him dabble in FA may bring. I know Gute and Co. are VERY happy with the OL room and perhaps that belief makes letting Runyan walk regardless the most likely future. Runyan however is for sure playing for some future cheddar for sure.

JONATHAN GARVIN - I think his undersized nature has caught up with him...and that time we had to use him he overachieved rather than showed what he actually could be. Garvin is however that perfect guy to bring back on a minimum deal to flesh out the backend of the OLB room if you should lose say Smith or perhaps vets like Hollins don't come back next year at that same level of the depth chart but more proven future.

Johnathan RUD FORD - Ford to me has the absolute most money on the table if you will (as I personally think Gary already has much more for sure happening)...Ford could play himself out of the league or get starting level safety offer as he is still under the age of 28...showed flashes of starting level play, 2023 will prove it or not.

DALLIN LEAVITT - ST gamer, nothing more - nor do I expect more.

JUSTIN HOLLINS - Depth guy with experience....he isn't 28 yet though, while Gary is out and LVN is a rookie learning, Hollins is playing for some money for sure!

ERIC WILSON - Carbon copy of the above Hollins scenario.

COREY BALLENTINE - Essentially same concept as the two above, but instead of Gary and LVN insert Stokes and a Nixon chance situation.

TARVARIUS MOORE - Safety is wide open for him to play into something!

JONATHAN OWENS - Exactly the same as above!

TYLER GOODSON - This man is playing for the post- Jones and Dillon era for sure!

JAKE HANSON - He may not even see the 53 this year with Jones, Walker, Rhyan and more having a say.

FEW MORE I DEEMED NOT WORTH MENTIONING.

These are guys given their future hits or contract situations I also put on the list of "contract" year:

Aaron Jones - we all understand it and so does he...which is why the restructure for this year happened....another one is coming or a cut after this year - how he does and how healthy he is all year will control the outcome I bet. (Dillon and a 3rd RB may as well be a big factor out of his control).

David Bakhtiari - Contract and age becoming more and more a factor...of course health also.

Kenny Clark - I put him here more because I think only an enticing trade plucks him...but this dudes cap hit is getting BIG next year (more than double this year)...with massive void years already.

Jordan Love - Obvious one....while I think he sees GB in 2024 regardless, he could be seeing it from behind Caleb Williams or another if he doesn't show out.

Preston Smith - His contract was very easily separated from and his play is still NFL starter level....however, any sign of dabbling with that age cliff he is easily cut...albeit really beneficial come 2025.