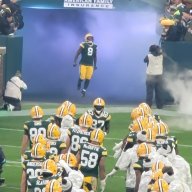 Opinions are like A-holes, we all have one.
Joined

Oct 30, 2012
Messages

29,035
Reaction score

5,958
Location
almost mid preseason, thought I would lighten things up a bit. If this has been done before, someone Zap my post, I won't be offended.

I thought it would be fun to hear the strange or crazy rituals you may have surrounding your love of the Packers....I will start it out with one of mine.

Game Day....I do not like watching live TV, just can't stomach the commercials. So I usually DVR games and start watching an hour or more after the game starts. This can create one major issue....I DO NOT want to know ANYTHING about the game from anyone. So I go into loner/nomad mode before a game. Trying to isolate myself from everyone and anything that may tip me off to something, including headphones, quiet country drives, mowing the yard, etc. As you may guess, over the years I have had a few spoilers from various people or driving by a bar after a game and seeing happy/sad faces on Packer fans as they stream out. For the most part though....it has worked.