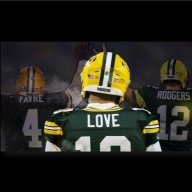 Joined

May 2, 2012
Messages

11,616
Reaction score

3,476
As always here we go fellas...

OFFENSE BEST
1. WR Randall Cobb, 87.7
2. QB Aaron Rodgers, 85.8
3. WR Davante Adams, 80.2
4. RB A.J. Dillon, 77.4
5. TE Dominique Dafney, 71.0

OFFENSE WORST
1. TE Marcedes Lewis, 35.5
2. LG Jon Runyan, 38.2
3. WR Allen Lazard, 41.6
4. C Lucas Patrick, 43.4
5. RG Royce Newman, 51.5

DEFENSE BEST
1. CB Rasul Douglas, 91.2
2. LB Krys Barnes, 89.4
3. OLB Rashan Gary, 77.4
4. CB Eric Stokes, 70.8
5. OLB La'Darius Hamilton, 70.3

DEFENSE WORST
1. DL Dean Lowry, 30.5
2. CB Chandon Sullivan, 44.9
3. S Henry Black, 46.3
4. LB De'Vondre Campbell, 48.1
5. DL Kenny Clark, 50.1

MY NOTES

Clearly PFF grades don't punish a WR for receiving issues or Cobb probably gets nocked for his turnover fumble. He played lights out otherwise though as you all know.
Dafney caught my eye with the amount of times he was in on plays, and dude did not dissappoint at all with his chances, excelled in his blocking assignments which earned him his spot on the BEST.
Dillon...dude forced 6 missed tackles officially, caught all five of his targets and converted seven first downs....BEAST
Run blocking was main issue for three OL finding their way to the WORST list...Lewis had an off night even on the blocking front. Newman gave up four pressures with Runayn and Patrick both two.
Kenny Clark I'm baffled with his low grade and didn't see him struggle against the run as they claim. He was dealing with doubles often and a few times even won them. Three pressures, a sack...he deserved a higher grade IMO.
Campbell I knew was going to make this list with his lack of coverage woes last night and atleast one missed tackle he was credited with if not more.