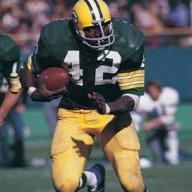 Joined

Jan 21, 2017
Messages

11,549
Reaction score

2,467
With most of the coaching hires completed, I think it's finally appropriate to offer opinions on the staff as a whole. I'm "grading" the hires just to attach something more tangible to my thoughts. Obviously we don't really know; these are just my initial impressions. I should say right out front that while experience is no guarantee of success and inexperience is no guarantee of failure, it's reasonable to prefer a more extensive background in the position to a lesser one.

Matt LaFleur, Head Coach: The narrative here is pretty well trodden by now-- sparkling pedigree with mixed results in his first opportunity to run an offense on his own, albeit in difficult circumstances. B

Mike Pettine, Defensive Coordinator: While the Packers defense didn't vault to the top of the league in his first year, there were tangible signs of growth and I was happy for them to achieve some continuity. A-

Nathaniel Hackett, Offensive Coordinator: Hackett is difficult to read, as he seems well respected in league circles, but the results haven't been impressive. That last point needs context, however, given the quarterbacks he's had to work with. All told, I think he's a decent get given that Petals is really going to be in charge of the offense (which usually puts a hard ceiling on the quality of OC candidates available to you). B-

Shawn Mennenga, Special Teams Coordinator: His 7 year long stretch as an Asst. STC in Cleveland included some good seasons and he has gained some experience, albeit at the college level, of being the top guy. Rizzi was easily the top candidate, but I think Mennenga offered more promise than many of the other former STC's who had already failed in the role at the NFL level. B

Adam Stenavich, Offensive Line: Petals is clearly trying to build a team/staff in the Shanahan mold, so Stenavich makes sense in the context of that mission. However, he has minimal experience, there were multiple good candidates available (including the guy who left), and OL coach is one of the most important roles on the entire staff. C

Luke Getsy, Quarterbacks: I think it makes sense to have a QB coach who already knows Rodgers. Getsy will be well equipped to help him through the transition. By all accounts, he did a great job with the WR's when he was in GB previously and left because of what he viewed as a better opportunity. That said, he has very minimal experience coaching QB's. B+

Ben Sirmans, Running Backs: Sirmans deserved to stay as he's done a nice job of integrating two young, middle round picks into the offense and also oversaw a WR converting to RB, having to take on the feature role, and actually doing quite well. The way Aaron Jones has played under Sirmans' tutelage seems like a great marriage with the type of running game Petals will want to establish. A

Alvis Whitted, Wide Receivers: Whitted has 7 years of experience as a WR coach, and has helped two players in recent seasons get drafted (both of whom were coveted for their skillset moreso than their athletic traits)-- that's the positive. On the downside, he has zero NFL coaching experience. C+

Justin Outten, Tight Ends: What can really be known about Outten? He was with Petals in Atlanta, so clearly a relationship formed there. But he's four years removed from being a high school coach. C-

Jerry Montgomery, Defensive Line: Clark has become an elite player under Montgomery, while players like Lowry and Lancaster also contributed more than was to be expected. He seems to be a great young coach, and he was a great "keep." A

Kirk Olivadotti, Inside Linebackers: Finally-- a little experience! The Redskins have seen their fair share of solid play from this position over his time there and he's comfortable with the type of scheme that Pettine runs. A

Mike Smith, Outside Linebackers: Smith has strong connections to Pettine himself and his defense. He's been a DC on his own before. He was the Asst. DL coach when Chris Jones emerged, and his switch to OLB's coincided with Dee Ford's breakout. I think that's a great get. A

Jason Simmons, Defensive Backs: Simmons' background with the team makes it hard to associate his influence with any particular success or failure. It seems like a big role (there will likely be 10-11 DB's on the 53 man roster), but clearly Pettine and Petals liked him, so we will see. B-

Overall: This staff is low on experience and high on unknowns. In the pedigrees of guys like LaFleur, Pettine, and others you see the potential for success, but the lack of it actually playing out in recent seasons. Ideally I'd like to see more veteran coaches mixed in, but for those who wanted a strong break from McCarthy's staff, you got your wish. It's clear to me that LaFleur is modeling himself after Shanahan, who created his own young staff with minimal experience. In a couple short years, Shanahan already has teams sniffing after his hires. So hopefully it works the same way here. In addition to the QC guys that are sure to be added, I would love to see an experienced former HC brought on in an AHC capacity, and another experienced mind come in to help with the DB's.

In forming an overall grade, I weighted position coaches a 1, coordinators a 2, and LaFleur a 4. I came with a B.