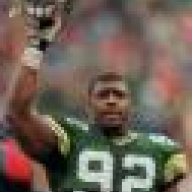 Joined

Dec 22, 2008
Messages

8,450
Reaction score

968
Location
Great read. Rec'd.
Clay Matthews known as Green Bay Packers' 'animal' on field - ESPN
GREEN BAY, Wis. -- With a cluster of groupies and a whiff of booze lingering on the concrete outside Lambeau Field,

Clay Matthews

III gathered his long blond mane, swept it back into a pony tail and strutted off into a warm October night. Oh, to be 24, single and the wildest linebacker this side of Lake Michigan.

Coaches dig him because Matthews is the guy with the most scuff marks on his shiny yellow helmet by Sunday night. He's broken his face mask, blown up his chin strap, and forced Green Bay to pack an extra helmet in case of a Clay emergency. Packers equipment manager Gordon "Red" Batty surveyed the latest damage after Sunday's 28-26 win against the Lions, a game in which Matthews rushed from the right side, the left side and the middle. "Looked like a bobcat got a hold of it," Batty says.

[+] Enlarge

You must be logged in to see this image or video!

Mike DiNovo/US PresswireIt's part of Clay Matthews' signature -- the hair.

Quarterbacks, of course, want nothing to do with Matthews. Four weeks into the season, and Matthews has battered

Kevin Kolb

, sparking quarterback chaos in Philadelphia, and triple-sacked

Trent Edwards

, who has since been cut in Buffalo. Lots of times, they don't see it coming. How can you miss him? Matthews is everywhere, flying around the field, hair bouncing out of his helmet, body pouncing at his target.

"You let the hair down," Matthews says, "and that's when the wild man comes out."

But apparently, the party shuts down early in Green Bay. On Sunday night, the NFL's sack leader had a gaga town at his disposal and good reason to celebrate. His Packers improved to 3-1, and Matthews, just 20 games into his NFL career, already has been called one of the league's elite pass-rushers.

True, he took off with a woman, to a fancy Italian restaurant on the waterfront, only it was his mother Leslie, and they spent the evening watching football.

Matthews eventually celebrated at a Dairy Queen with a cookie-dough blizzard. He ordered the small.

"During the season … fun, to me, is getting sacks, making tackles and winning games," Matthews says. "It's not spending money, girls, or, you know, this and that.

"I'm in lockdown mode as far as what I want to accomplish. I don't let anything else get in my way."

'I wanted to be that guy'

Skip the backstory, skim through the record books and, on the surface, this path probably seemed locked into Clay Matthews III's GPS. His grandpa Clay Sr. played in the NFL, ran a Fortune 500 company and sired two genetically gifted sons who played 19 years apiece in the league. And here was the best part: Clay Jr.'s NFL career was so long that his boys could come along for the ride. He'd fill their bellies with stadium pizza and snow cones, take them to the locker room, and watch them toss a football and roughhouse on the hallowed grass of Cleveland Stadium.

[+] Enlarge

You must be logged in to see this image or video!

Elizabeth Merrill/ESPN.com Green Bay Packers equipment manager Gordon "Red" Batty, with a picture of himself and Clay Matthews' uncle, Bruce Matthews, who played in the NFL for 19 seasons.

"That was kind of fun," Clay Jr. says. "I mean, for the first 10 years of his life, he was around the NFL, fighting up there [in the stands] and eating us out of house and home. You know what those mini pizzas cost?"

It was adorable and meaningful, those autumn Sundays with his boys, but Clay Jr. always made one thing clear: He didn't care if any of them ever played football. And for the first 16 years of his life, it appeared as though Clay III didn't belong anywhere but at the end of a long bench. He weighed 166 pounds as a junior and was so overmatched that his father, his high school defensive coordinator, refused to start him. "Too small and too slow," Clay Jr. said.

But young Clay was hardheaded. He grabbed an old workout card from his dad's days with the

Cleveland Browns

and, every day after school, Matthews followed the routine at a local gym in southern California.

He benefited from a growth spurt between his junior and senior seasons -- the Matthews boys are known to be late bloomers -- but received scant interest coming out of Agoura High School in Agoura Hills, Calif.

When Clay came home one day and said he wanted to walk on at USC, his dad, a Trojans alumnus himself, was surprised and worried. Surely, his son would never play. Loaded with five-star linebackers, USC was destroying its Pac-10 competition. Hopefully, Clay wouldn't get himself hurt.

"You certainly don't want to stomp out any of your kid's dreams," Clay Jr. says. "But he wasn't that big and he wasn't that fast and he was going to a school that was getting the top talent in the nation. I just wanted to make sure he knew what he was doing.

"He was setting his standards high, and that was kind of the apex."

[+] Enlarge

You must be logged in to see this image or video!

US PresswireClay Matthews Jr. played linebacker for the Cleveland Browns and Atlanta Falcons.

On several occasions during his freshman year in 2004 -- a national championship season for USC -- then-coach Pete Carroll asked Matthews if he wanted to play mop-up duty. It would've been a dream for most scout-teamers, but Matthews declined, saying he needed that redshirt year to get ready.

Looking back, Clay Jr. says, the USC coaches probably chuckled at that. But Matthews never flinched. He was always the kid who'd finish the monthlong homework assignments weeks in advance just to clear them out of the way, always the one who did things his way.

He subsisted on chicken breasts and egg whites in college, just to get an edge. It was a different time at USC, a magical time with an embarrassment of riches. The linebacking corps was a future NFL Who's Who list:

Keith Rivers

,

Lofa Tatupu

,

Thomas Williams

,

Rey Maualuga

,

Kaluka Maiava

,

Brian Cushing

.

"Everything was a constant competition," says Rivers, a third-year linebacker with the Bengals. "We got after it, we got cussed out, but at the end of the day, we always had fun. You see all the top guys coming out of high school, and we were always gunning for each other. Everybody was trying to figure out who's the best."

Matthews fed off the competition. In his redshirt freshman year, he played on special teams, and Clay Jr. started to notice that his son's body was beginning to catch up with his super-sized ambitions. "Relentless" is a word often bandied about when talking about Matthews. "Patient" would have to be another.

He earned a scholarship in the fall of 2006, his redshirt sophomore year at USC, but didn't become a regular starter until four games into his senior season.

"I feel like I've always been doubted or slighted," Matthews says. "Let's be honest. When you're a walk-on, you don't start for a No. 1 team, a national championship contender. You just don't. A walk-on is a guy who plays scout team, who's just happy to be on the team.

"But for me it was so much more. I wanted to play, I wanted to start, I wanted to get all this attention that all these other guys had. … I kept working because I had to have a chip on my shoulder because I was never that guy. And I wanted to be that guy."

Being the guy

It took every bit of those five years, but eventually, Matthews was the guy. Or at least one of them. He started alongside Cushing and Maualuga and posed with them for the cover of Sports Illustrated just before the 2009 draft, three long-haired linebackers on the cusp of fortune. BAND OF BROTHERS, the cover said.

When the Packers uncharacteristically moved up in the draft to pick Matthews at No. 26, it created quite a stir in Green Bay. Skeptics wondered if Matthews was a product of the talent around him. Others figured GM Ted Thompson was gambling on bloodlines.

[+] Enlarge

You must be logged in to see this image or video!

AP Photo/David StlukaPackers linebackers coach Kevin Greene says he saw Matthews as a "diamond in the rough."

But to the Green Bay coaching staff, which was installing a 3-4 defense under new coordinator Dom Capers, Matthews was a perfect blend of speed, versatility and attitude. He could rush the passer and cover the run. He could spark a Green Bay defense that languished near the bottom of the league in 2008.

"I saw a diamond in the rough," says Packers outside linebackers coach

Kevin Greene

. "A little polish here, take the edge off there, and he's going to be a phenomenal player.

"He is relentless. He's got a tremendous motor. He has the most complete skill set I have seen in an outside 'backer in a 3-4."

Maybe, Greene sees a little of himself in Matthews. Both were walk-on linebackers in college, chasing down quarterbacks with something to prove. Greene was a long-hair in his own right, and his golden tresses were more of an oddity during his NFL playing days (from 1985-99). He jokes, now, that he's growing his hair out again because he wants to be like Clay.

But really, his reasons back then were about the same as Matthews'.

"It's about having fun," Greene says.

Matthews had 10 sacks as a rookie in 2009, enough fun to earn him a trip to the Pro Bowl. And the debate continued, in texts and IMs among the USC linebacking clan, about who was the best. Rivers says Matthews, his former roommate for three years, is arguably off to the best start. But it's an all-out footrace.

Cushing was voted NFL Defensive Rookie of the Year in January, then was suspended for the first four games of the 2010 season for testing positive for a masking agent for steroids.

Soon after the report surfaced, the whispers spread to Green Bay, back to a pre-draft rumor about Matthews and steroids that turned out to be false. It angered him, and Matthews unequivocally denies taking anything. He points to a long line of Matthews, and the fact that generations inevitably look like him. Most of all, he goes back to the five years he spent locked away at USC, denying himself sodas and candy and a social life, desperately trying to prove he belonged.

"Obviously, it's not true," he says. "Everybody wants to take shots at you when you're doing well.

"It doesn't bother me anymore. I don't hear what people have to say about me."

Deep inside, he knows that's not entirely true. He loves the way fans call him on radio shows, just to thank him for his effort. He likes scanning crowds and seeing middle-aged men with hippie hair and No. 52 jerseys with MATTHEWS on the back.

The hair, by the way, required a decent amount of work, too. He had a crew cut during his early college days. His dad liked that. When Clay III made the bold move to grow it out, he had months of mushroom-top bad-hair days that made him hide under a beanie.

"I don't think anyone would even talk to me as far as females," he says. "It was pretty bad.

"You see long hair, and first of all, it's not the norm. But it kind of represents how I approach this game and approach life. Just kind of living on the edge, so to speak. That's kind of how I play."

'He's an animal'

Sometimes, perhaps, it's better to go unnoticed. Matthews' six sacks in the first two weeks of this season earned him the NFC's Defensive Player of the Month award. Now opponents are throwing double- and triple-teams at him, trying to steer him away from history and, more notably, their quarterbacks.

[+] Enlarge

You must be logged in to see this image or video!

Jeff Hanisch/US PresswirePackers defensive end Cullen Jenkins (77) and linebacker Clay Matthews get to Buffalo Bills quarterback Trent Edwards during Green Bay's 34-7 win in Week 2. Matthews had three sacks in the game.

"Off the field, he's a man," says Packers linebacker

Frank Zombo

. "And when he's on the field, he's an animal. He's a leader in the locker room, and he's definitely someone us young linebackers can look up to."

Zombo is reminded that Matthews is just a year older than him. The rookie says he knows that. He just seems so much older.

Life, in the NFL, moves fast. And Matthews needs a breather every now and then. On Sunday, after fighting off roughly 600 pounds of double-teams, he finally blew past the left tackle and notched his seventh sack of the season, rekindling the talk in Green Bay that Matthews just might break the all-time single-season sack record (22½ by

Michael Strahan

).

When the clock ran down and the Lions finally left Lambeau, all Matthews cared about was survival. He said he played every snap on Sunday, but was too tired to remember if that's accurate. He found his mom and ate his blizzard. And that's all the fun he could stand.

"When I leave the field, I don't have any regrets," he says. "I might make a mental mistake, miss a tackle or mess something up. But as far as my effort, I don't think anyone can doubt that about me."

Elizabeth Merrill is a senior writer for ESPN.com. She can be reached at

[email protected]

.