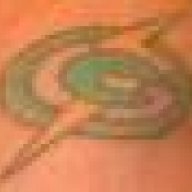 Moderator
Staff member
Moderator
Joined

Mar 7, 2005
Messages

24,280
Reaction score

3,300
Location
Favre's sales pitch not good enough
Arrington had talk with QB
By TOM SILVERSTEIN
[email protected]
Posted: April 25, 2006
It's easy to assume that quarterback Brett Favre's uncertain status played a role in free-agent linebacker LaVar Arrington's decision to reject the Green Bay Packers' offer and sign with the New York Giants.
But Arrington told the Washington Times last weekend that Favre intervened on the Packers' behalf late in the process to strongly encourage the three-time Pro Bowl linebacker to sign with the Packers. Arrington told the newspaper that Favre nearly swayed him to accept an offer from Green Bay that was thought to be for more money than what the Giants offered.
One of Arrington's agents, Kevin Poston, confirmed that Arrington didn't take the best offer on the table, telling the Newark Star-Ledger that one of the teams offered slightly more, although he declined to name the team. The Packers and Giants were thought to be the two finalists in the Arrington sweepstakes, with Miami and Jacksonville making pitches as well.
Packers general manager Ted Thompson said he had no knowledge of Favre playing a role in recruiting Arrington. Neither Poston nor Favre's agent, James "Bus" Cook, could be reached for comment.
But the Times reported that Arrington received a sales pitch from Favre before he made his decision and thought hard about it.
Thompson remained vague about Favre's status for next season and said he, like everyone else, was waiting to hear whether he would return this season. Meeting with reporters at a pre-draft news conference Monday in Green Bay, Thompson seemed at ease with the possibility that Favre would wait until after the draft to make his decision and indicated that it wouldn't affect his plans for this weekend.
"He has reached a certain position in this game and the respect we all have for him, he's trying to make this decision and is trying to do it in the best way he can for him and his family," Thompson said. "You wished we had it earlier. We had this so-called timeline, but it was always throwing the dart at the calendar. We'd like to know but I'm sure he'd like to know."
Asked if he expected to hear something before the draft, Thompson said: "I've gotten to the point where I'm not necessarily anticipating, but at the same time it wouldn't surprise me if we got some sort of answer. I'm probably the same as you guys."
If Favre was playing recruiter for the Packers it would seem to indicate a strong desire to return, but he has said in various interviews that he's feeling the itch to play but doesn't want to endure another 4-12 season. Arrington expressed to the Times that the fact the Packers were 4-12 last season and that Favre might play only one more year were factors that weighed on his mind.
Now that Arrington has gone to New York, the last big-name free agent out there is cornerback Charles Woodson, who remains high on the Packers' wish list. Talks with Woodson and his agent, Carl Poston, Kevin Poston's brother, continued Monday. The Packers and Tampa Bay Buccaneers are the front-runners for Woodson's services and it's possible the veteran cornerback will make a decision on his new home before the draft.
The fact the Packers are coming off their first losing season since Favre became the starter in 1992 and Favre is nearing the end of the road probably isn't doing the Packers many favors in free agency. Add in the uncertain status of wide receiver Javon Walker, who has vowed never to play for the team again, and Green Bay has lost a lot of its cachet.
Arrington listed factors such as remaining in the NFC East where he could play against his old team twice a year, staying close to his home in Annapolis, Md., and playing in a big city as factors that led him to the Giants. But he also identified the Giants as "a winning team, a team heading in the right direction," in the Times interview.
If the Packers are able to sign Woodson it would certainly be an argument against Green Bay returning to the barren northern outpost it was in the 1970s and '80s. The Packers are going up against a Buccaneers team that features Woodson's old Oakland Raiders coach Jon Gruden, whose persuasiveness can lead players to take less money to play for him.
However, Thompson reiterated that he is not going to engage in profligacy to build his football team.
"We will continue to make efforts to do some things," Thompson said.
"We do try to make certain what we do is not just fantasy football. We're investing in a player that has to come in here and play a particular role. If we don't think that player can perform to that contract it doesn't make sense for us to do it just to say, 'Look at what we spent.' "