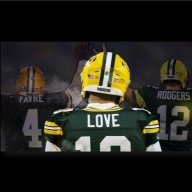 Joined

May 2, 2012
Messages

5,259
Reaction score

481
So the "Big Swing" thread and discussions on how Gute could swing given his short track record to do so for a WR....or as this thread will expand upon another position. The likelihood of us getting a Top 10/20 or so type talent will purely be if positions fall. I don't see a trade up scenario Gute is comfortable enough with until after or at the #15th pick held by New England.

At this point for this "All In" trade up scenario is to work in GB's favor we need a run on QBs to have occurred, seeing Lawrence, Wilson, Lance and Fields all gone...with maybe even Jones as well or him being the only one left. This leaves Washington and Colts as the only clear QB needing teams till the 2nd round starts...this also means 4/5 picks in the top 15 are chewed up by one position.

Let's not talk about guys like Farley, or Sewell or others...some guys just likely won't be there but here is my list of guys that I'd 100% be burning phone lines up for after 15 that I don't believe make it to #29 that also are in our significant needs categories:

NOT in a ranked order.

LB - Micah Parsons - Penn State - His skillset and abilities are arguably unmatched presently by any other single ILB in the draft. That won't be what causes him to possibly be there...we've seen attitude/character red flags get ignored in past drafts, but we've also seen it 100% removes him from some team's boards or slides them down. Lot of discussion on Parson's role in the hazing and harrassment cases filed against PSU by ex-players. That said, if interviews with us go well should we have one...he is 100% the talent level worth using draft equity for, I'm talking even like a 2022 2nd rounder or even our first if it means we hang on to our 1st this year too. Parsons is nasty good....I just worry he may also be nasty.

LB - Zaven Collins - Tulsa - My LB1 in 2021 draft. If Parsons falls he and 'Wusu' (which is a guy we need to avoid IMO) will benefit the most. Collins IMO would serve us even better in run support, but dude can flat fly sideline to sideline at 260lbs like a guy 20 lbs lighter. I will not say he is Devin White fast, but I think his quickness is and insane versatility is a rare skillset to see.


CB - Jaycee Horn - South Carolina - I don't think Farley and Surtain make it to the point I'm discussing...however Horn may and takes a spot here. Instantly a plug and play type caliber guy opposite of Jaire. Taller than Jaire so depending on match ups one could argue we could pick and choose which guy we want where if Horn delivers as well as I feel he will.

OL - Rashawn Slater - Northwestern - Personally I have him over Sewell, and the only reason I feel like he isn't going above Sewell is him not playing 2020 season. What I love about Slater is the dude could play ANYWHERE and I mean that. He instantly is one of our top 5 OL on roster, and will start somewhere amongst the line day 1.

WR - Rashad Bateman - Minnesota - I've discussed him plenty elsewhere. I believe he is the #1 WR capable of falling to 15th or later and could be the best WR drafted this year in 10 years.


*Of course there could be an unexpected drop by a guy I don't envision like a Weddle perhaps falling...or Pitts...but I think those 5 are the guys I've red circled that if they are still on the board after or on 15 - I'm trying to make a trade up.



These two are guys that if a run on CBs happen I could see Gute making a smaller move up for if none of the other options fall together.
CBs - Asante Samuel Jr - FSU OR Tyson Campbell - Georgia - I included him because technically if we see Farley, Surtain, Horn, Stokes all gone, I could see a situation where Gute may only like Campbell or Samuel and want to make certain he gets the one he likes or if he likes both he could see one go at like 25 or so and make a small two or three slot trade up to guarantee we get one.
Last edited: