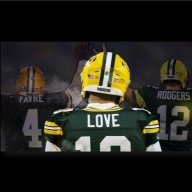 Joined

May 2, 2012
Messages

9,135
Reaction score

2,163
*After some sensical disagreement over the trades being actually truly possible or not I did add in the comments an updated mock, one trade - which is 100% plausible from both directions and stays in the Gute-ish vein.

This week's installment of a mock draft of mine involves the one thing Gute has shown tendencies to do, which is not draft in the first round where he is slotted (he has only done this once). He's either traded up or traded back out of it...so let's get this bad boy started:

After placing calls to trade up and try and get THE wide out Gute likes (after not making that happen in 2020) all go for naught...#29 comes and a trade still happens but this time back. They passed on a QB at 12 as all but Jones of the 5 were gone...BUT Mac is still there when 29 rolls up and they look to have that 5th year option and potentially have an out from Jimmy G immediately or after the 2021 season which is rumored to be their desire.

#29 - Is traded away to the 49ers for their 2022 First Round Pick + this year's #117 in the Fourth Round.

When this trade happens, most pundits predict it won't be long till we see Gute move again with all the equity he has.

It is only 4 picks later when a "Trade" happens and sure enough Green Bay has traded the Jaguars for their #33 pick of the 2021 draft. Packers trade their first rounder of the 2022 draft (betting that 49ers pick will be better) and the #215 pick in the Sixth of this year's. This trade makes sense with the Jags having already picked two guys in the first (Lawrence and Teven Jenkins in this mock) while also still holding the 45th.

#33 - CB Greg Newsome II 6'1" 190lbs Northwestern
Newsome, everyone on this board knows is a guy I have ranked higher than some, but I loved hearing the Packers had Newsome on a virtual meeting already. That all, mixed with our need opposite Jaire makes this pick gold position wise.

Towards the end of the 2nd, word on the street is the Seahawks are shopping their pick in order to get more picks back - having very very few at hand. Gute has had his eye on two prospect's he is surprised with each pick is still out there...he snatches the Seahawks pick - while giving up a solid amount, some argue too much - but not wanting to give up his #62 it is clear the Seahawks got a solid amount back. Packers send a 4th (#142), 5th (#178) this draft plus our 3rd in the 2022 draft to get the rights to the #56 pick.

#56 - WR Nico Collins 6'4" 215lbs Michigan
Folks may never know why, but 2020 Gute never could get a trade he wanted to get a WR (although we know he tried). With how well AR played last year, the ending contracts throughout the WR room, draft equity most likely coming back in 2022 comp picks and the window of Super Bowl still open he makes it happen. Nico is a BIG time receiver by all who actually studies his tape and looks past the lack of any true talent at the QB position he has dealt with...and then opt out in 2020. Big, quick, skilled guy that is personally a favorite of mine.

#62 - LB Jabril Cox 6'3" 233lbs LSU (N. Dakota State)
He is everything we'd hoped Burks was capable of, but with the ability to actually do more than just move. Cox is my personal LB 3 in the draft. He immediately upgrades the LB room and his joining of Barnes and Martin I truly think can be incredibly special.

#92 - iDL Alim McNeil 6'2" 315lbs NC State
We see another pre-draft interview get their named called by Green Bay. Anyone watching Alim's tape will be hard pressed to find anything that needs more than polishing and growth - there isn't any gaps or holes. Somewhere Kenny Clark and Keke are beaming hearing this pick. Run defense just got a major upgrade.

#117 - Edge Daelin Hayes 6'3" 261lbs Notre Dame
Everyone knows I'm an Irish fan and have been knocking on Hayes door on the forums that he is well worth an early Day 3 investment and his Senior Bowl tape confirmed it 100%. He has that hyrbid ability to live in a 2 point or 3 point stance situationally and does a strong job of setting the edge typically given his fully developed frame.

#135 - OT Walker Little 6'7" 309lbs Stanford
Had he not been injured in 2019 and then opting out of 2020, I firmly believe he had a shot at being the OT#3 in this draft...but the unknowns and time since his last play is what has him firmly going no higher than the 3rd to many and to most living in that round 4 range. He may not instantly start given what we have, but I do believe he is a starting level NFL player for sure if he at all is healthy and ready to go because the dude was special before his 19' injury! (Brady Christenson was the other strong option here at OT)

#174 - RB Jermar Jefferson 5'9" 215lbs Oregon State
Very productive back that quite a few of us on this board are fan of right around this area. He produced some serious yardage in college, and would offer a change of pace and style to Dillon or really whomever is in that RB room to start the season.

#221 - WR Jaelon Darden 5'9" 170lbs North Texas
Gute showed the world he will actually look at a WR that isn't over six foot by interviewing Rondale Moore before the draft...so this deep in the draft we have a small school version of Rondale. His frame is tiny but this dude has chops when he has the ball no one can argue against. We take a flyer on a later rounder that at minimum could become the jet sweep motion type role and make a case for return and/or slot time in the future.

#250 - OT Ben Petrula 6'5" 325lbs Boston College
Prospect from a great lineman school and has held a role at RT for two seasons, and did one at Center. His experience, build and versatility screams top shelf a Lane Taylor type or floor a Lucas Patrick type maybe....either way lot to like at this stage in the draft despite realistically not expecting anything first year for sure.

Notes/Takeaways of this mock:

9 Picks Happen - 5 offense and 4 defense...only 1 offensive in our first 5 picks though.

Weaknesses: While the offensive side of the ball saw a lot of love, arguably the biggest potential issue with this draft is not seeking a top shelf surefire Tackle or interior guy in any of our first three high picks and waiting clear till the end of the 4th to attempt to address it. Sure Little could very well provide snaps or even injury time starts for us in 2021 but some will be skeptical for sure.

Strengths: The moving Gute does is beautiful in essentially picking at 33 instead of 29 while trading a 6th rounder for a higher 4th rounder...I mean....genius and very Gute style. Our defense arguably adds 3 starter or high level contributors out the gate in Newsome, Cox and McNeil - but also Hayes is a guy fully capable with his frame not needing a year to develop and can contribute in a dependable depth role.
Last edited: