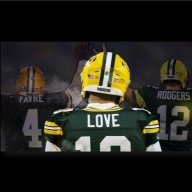 Joined

May 2, 2012
Messages

11,616
Reaction score

3,476
It's been a while since I've personally let my desire for a WR enter the mock draft world...however...I've come to the conclusion that if Amari Rodgers is there at #62, he is a prospect I just am not sure I can pass up to add to MLF system. So without much fan fare, this is one of the last monday mocks left before the draft...

#29 - Eric Stokes CB - A guy I once had pegged as an untouchable (being gone already) is becoming more of a possibility. Newsome as I feared all along is starting to look like is going to be #4 CB off the board possibly. I flattered the concept of King's signing changing the thought of CB here, but personally I still think it makes the most sense and if Newsome/Stokes or even Samuel is here - no one could be mad (maybe disagree) at taking one. Stokes can fly and shows flashes of having a VERY high ceiling.

#62 - Amari Rodgers WR - Word is Packer representatives were very attentive during Amari's Pro Day, and with good reason. A running back body, with WR slot skills and return experience - three boxes checked right off the bat. While he doesn't have the afterburners in shorts like either Moore or Toney - with pads on the dude lays a solid argument to be just as valuable. His body build allows for more durability and even took some RB snaps at Pro Day - to me he is everything we all wished Ty Montgomery would be - but with vastly more WR chops than Ty had.

#92 - D'Ante Smith OT - Smith was a guy I kinda pushed aside for the longest time until Senior Bowl performance proved this kid has the ability to be special and is healthy. Has the movement skills to move inside even if needed, which depending how our OL shuffles out - this could be the difference needed for him to start out the gate even.

#135 - Caden Sterns S - Sterns is an athletic freak that I love working all over the field with chops to man the slot if needed. Sterns would add a versatile piece to an already ascending group of safeties, with coverage chops to possibly even be looked at for some slot needs in packages even.

#142 - Walker Little OT - Does not project at all to shifting inside, but does project for a career at a tackle position in the NFL for sure. His RAS score proved yet again why so many of us like him. Him and Smith added to the OL room instantly ease worries about the Linsley/Wagner/Taylor (maybe) losses from 2020, not too mention Bahk injury timing.

#173 - Ihmir Smith-Marsette WR - I've mocked him a few times and brought him up as a favorite Day 3 pick at WR. Athletic highly productive when called upon with immense returning experience. Long term could help some of the issues facing us of unknowns after 2021 (no contracted WRs with experience)...and between him and Rodgers this draft class could give the return game a jolt of assistance as well.

#178 - Bobby Brown III iDL - Athletic high floor type iDL that should be capable of granting Clark some help which is long overdue and maybe work into the rotation rather quickly.

#214 - Garrett Wallow LB - His RAS score backs what I've always seen, a skilled athletic guy that could be special. A guy that started out rooted at Safety in high school showcases this field vision at times despite perhaps not being elite in anything really, and despite his safety background appears to lack that anticipation gene you'd expect. Low risk, high reward type; precisely why he is here in Day 3.

#220 - Malcomb Koonce EDGE - Situational pass rusher out of Buffalo with some chops that hopefully translate. He is a rare lateral mover upon diagnosing the play and his short burst is impressive. His motor and pursuit from backside are not something to expect him to do out the gate and will require some coach up to see what all can be tapped into.

#256 - CJ Verdell RB - Oregon back that is an excellent change of pace type guy that will never be a feature back due to size, but excellent in the passing game and outside the tackle running.


Honestly, from the way the board fell, and to the positions found - this is about as good of a draft as I could hope come our way and I think if most are honest they'll agree. Not with the picks perhaps or the spots but to walk away with a potential pure slot of the future, a couple offensive lineman with chance to start year 1 (I'd bet one does) and a day 1 CB is awesome - let alone some guys with apparent high floors that should see their rookie contracts through at minimum in ISM, Brown and Wallow IMO. Koonce and Verdell will have a dog fight to stay IMO but worth the chance.
Last edited: