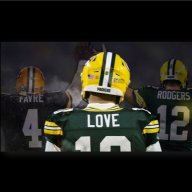 Joined

May 2, 2012
Messages

12,836
Reaction score

4,258
Figured instead of pop up discussions or tag lines coming due to TC a thread for any and all TC related content might be beneficial.

I'll start it off with a posed question of discussion last night between some fellow Packer fans and I "What are three or four roster surprises that will come out of training camp?"

#1 - Romeo is the most polished WR in camp. Many of us hold this belief and this won't surprise us, but it will surprise quite a few fans and media types expecting Watson and his freak tool kit to be that. I still think Watson's ceiling is higher (if he reaches it) but Romeo is a stud in his own right, just farther along IMO in his journey to his ceiling.

#2 - Saw another person say this but I truly believe Tyler Goodson is going to make waves and many are going to be saying heading into PS that Tyler is the favorite to win the #3 role here.

#3 - Buzz surrounding Garvin's growth has many hoping the depth at OLB isn't as bad as we think

Discuss away...
Last edited: