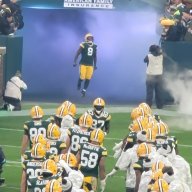 Opinions are like A-holes, we all have one.
Joined

Oct 30, 2012
Messages

27,021
Reaction score

4,843
Location
I read through a bit, but not this whole thread. My apologies if someone else did this already. I broke down what I think needs to happen to keep Rodgers and Adams.

If the Packers can re-sign Adams and extend Rodgers they will likely lose the following players unless they renegotiate for league minimums.

Offense: Lazard, Cobb, MVS, EQ, Tonyan, Lewis, Nijman, Patrick, Kelly

Defense: Campbell, Douglas, Sullivan, both Smith Bros, Lowry, Lancaster, King, & Burks

ST: Crosby

If this were to happen the Packers would have the following depth chart.

Offense:

QB: Rodgers, Love, Benkert
RB: Jones, Dillon, Taylor, Hill
WR: Adams, Amari Rodgers, Winfree
TE: Deguara, Davis, Dafney
LT: Bahktiari
LG: Runyan(Jenkins)
C: Myers
RG: Newman
RT: Turner
Backup Oline: Braden, Hansen, Van Lanen

Defense:
Dline: Clark, Slaton
OLB: Gary, Garvin, Galeai
MLB: Barnes, Mcduffie
CB: Alexander, Stokes, SJC
S: Savage, Amos, Black, Davis, Scott

Special Teams
K: Kicker to be named later
P: Bojorquez

Draft Picks in Rd 1, 2, 3, 4, 4, 5, 7, 7, 7

A lot of holes would need to be filled with the draft or undrafted free agents. Maybe a few flyers like Douglas who have bounced around for a while.
Rodgers already said that he doesn't want to be part of a rebuild and that is probably a rebuild.
I don't know if he will soften his stance on that or it was just a hint that if the Packers don't re-sign Davante, he is gone.
The first and #1 decision that the Packers must decide on is Rodgers and the chips will fall from there.