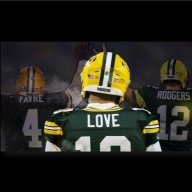 Joined

May 2, 2012
Messages

11,662
Reaction score

3,505
Just writing this down here now so I can list out some of my clear and above favorite prospects; most are guys I had on my 2021 which simply didn't enter draft then or weren't eligible. Will of course add more over the next 10 months or so and everyone feel free to as well here.

I know way early, but my wiring never allows me to shut off the "draft thoughts".

By position a few of my clear and above favorites - not necessarily the best, but my favorites VERY early and premature:

QBs

Carson Strong - Nevada 6'4' 215lbs - Kid has little bit of everything you wanna see in a QB. Hit over 70% completion last season and was much cleaner with the ball.
Sam Howell - UNC 6'1' 225lbs - Freshman year over 3600 yards and 38 TDs with 7 INTs caught everyone's eye, shortened sophomore season in 2020 saw nearly identical production with slightly less TDs (30) but elevated his completion % by 7 up to 68%. He had TONS of weapons last year, let's see how much of his success his driven by him or others this year.

RBs
Kevin Harris - South Carolina 5'10' 225lbs - Love how this kid moves despite built very solid. Last year was his first real "full year" in his sophomore campaign. He saw 185 rush attempts and 21 receptions for 1,138 yds on the ground (6.2 avg) and 159 yards receiving. His dual threat nature illustrated has me incredibly excited to see what he can put forth in his Junior year and is a guy that should he declare I would love to have but our RB room may or shouldn't need him.

WRs
Chris Olave - Ohio State 6'1' 190lbs - Folks, I predicted him as a Packer EARLY last year and was so mad to see one of my favorite wideouts in the draft not named Bateman pull out and decide to return to college. Olave has a bit of everything you want in a WR1 of the future. Paired with Adams or sadly if Adams is also heading out - Olave makes almost too much sense. I STRONGLY am betting on this guys future is WR2 worst case for majority of teams in the league.
Ty Fryfogle - IU 6'2' 214lbs - JUMP BALL BEAST. Raw out of high school that didn't need or knew much more other than telling the QB and coach to throw him the "jump ball". Now rounding into a favorite of mine (not a IU fan but Indiana guy so I watch them) I truly think him and Penix in 2021 along with the rest of IU could be a problem. Keep an eye on Fryfogle, right now most would say he is a Day 2/Day3 border type guy - I personally feel all the traits are there for him to play into a lock for Day2 and threaten to become an early Day2 type guy.

Two quick others Jalen Tolbert out of South Alabama and Reggie Roberson out of SMU

TEs
Jaylon Wydermyer - Texas A&M 6'5' 265lbs - I LOVE EVERYTHING ABOUT JAYLON. Has the size and willingness to excel as a blocker. Smarts and good enough route running chops to be a threat in the passing game. If Jace doesn't wake up and Tonyan plays himself out of GB, this Aggie would kick him to the curb in a heartbeat.

Hendershot at IU and Allen at Iowa State are two others I really like.

OL - I haven't delved too deep into this aspect. I really prefer DEEP dives into this group once the college season is minimum halfway. But a few names to keep eye on IMO: Evan Neal, Nick Broeker, Alec Lindstrom, Josh Sills


DE/Edge
Thibodeaux - Oregon 6'5' 250lbs - BEAST. Plain and simple will be GOOD.
I also really like Karlaftis out of Purdue and think Aidan Hutchinson at Michigan might separate himself from the group possibly.

DTs
Tagovailoa-Amosa - ND 6'2' 282lbs - Irish bias fan here, but I think Myron could be VERY good for Green Bay. I'm not projecting he will be a Day 1 guy, but he could fight for Day 2 consideration with a solid 2021 season.

Zacch Pickens at South Carolina and Cory Durden out of FSU are guys I like too.

CBs
Ahmad Gardner - Cincinnati 6'2' 188lbs - Dude has 3 INTs in each of his first two seasons, shows willingness to attack. I expect a lot of growth and attention sent his way by scouts this next year. As a rookie he was one of the most frequently targeted DBs in the country, and yielded a PFF College's #6 overall ranking. He has yet to give up a TD in two years and opposing QBs have a rating of 35.3 when throwing into his primary coverage - DUDE IS A BEAST. BEAST.

Storm Duck, Tiawan Mullen are two guys I like right now too.

S
Kyle Hamilton - ND 6'4' 219lbs - Kyle is my favorite prospect overall. I want him in Green Bay in the WORST way. Coverage skills, movement skills, ball skills, tackling skills...he is ready, Day 1 starter instantly.
Last edited: