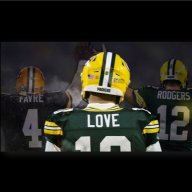 Joined

May 2, 2012
Messages

12,212
Reaction score

3,861
Normally I wait till around Christmas...but screw I was bored and all the college football over the weekend made me want to do it.

It's very early, however, mocks provide another avenue to weighing prospects - internal board development and such. Only a 5 rounder - going off of predictive spots only.

Round 1 #30 - Ojabo didn't fall, Jameson Williams didn't as well. I do a Gute type move and slide back, prepared to pounce back if needed.
Send our First #30 and a Seventh to the Colts for their Second #42 and a Fourth #112

Round 2 Pick #42 - David Bell, WR - Purdue - 6'2' 205lbs
Yes, I'll start the predictions off with the position so many have been just clamoring for since Gute took over really. Now, this pick is large part due to the unknowns at this present time (12/6/2021). Does the team pull of a miracle in hanging on to Adams...if so does that mean MVS is not even offered a contract....if Adams walks, do we convince MVS of a decent contract...does Cobb's inflated 2022 number lead to a new contract or a cut? Honestly, however this all plays out we are sitting on arguably only having two maybe three of our most 2021 active roster WRs back in 2022. Some folks loved Rondale Moore out of Purdue last year, I much prefer Bell overall. Is he the pure homerun hitter like Moore, arguably not. But the young man possesses ample size, knows body positioning and his YAC ability reminds me of a raw and young Davante. He is going to need some polishing, but lord have mercy if somehow he can learn from a retained Adams I see a VERY high ceiling. Can he survive should this be a Love future type team.....man I don't know, but that gamble is worth it. This pick would benefit either direction a Rodgers or Love 2022 in very different ways.

Round 2 Pick #62 - Kingsley Enagbare, EDGE - South Carolina - 6'4' 265lbs
With the chance both Smiths are gone (cap issues), but assuredly Z...and factor in Rivers will be coming back from injury...the future of our Edge is in need of assistance for sure. Kingsley is in that wave of defenders Day 2 that COULD prove to have been more than some thought. Kingsley has been a consistent cog in what has some years been the only bright side of the ball for South Carolina. His athleticism and best reps just JUMP off the screen to anyone watching...making you think assuredly this guy could go higher...and he may. It is a tough one to gauge and does at times suffer from misreading the backfield, causing him to lose positioning in run defense. HOWEVER, when he doesn't he has held up the edge against some of the best tackles in college football and I would LOVE to see what the Green Bay staff and sharing a room with Rashan Gary might do for this guy. I would love to see us somehow keep Preston for a year, and allow Enagbare to share that backup role with Rivers...and set up an explosion year hopefully in 2023.

Round 3 Pick #94 - Chad Muma, LB - Wyoming - 6'3' 242lbs
Wyoming has started putting forth some excellent next level NFL caliber LBs of late. Now there are some ILBs I like in the late Day2 and Early Day 3 time frame. Is this necessarily a massive NEED, depends on what happens with Campbell. If Campbell can be resigned, all we need is depth here (Barnes and Campbell are a strong duo). Muma illustrates the ability to be a solid three down back, in 2021 his managed to even showcase his hands not just his ability to cover (three picks, tow for TDs)....but that shouldn't surprise anyone that spends some time watching tape of him, as he was a defensive back in high school - and a DANG GOOD ONE TOO. Muma got stuck behind Luke Wilson, but excelled and showed out on special teams. Look for him to showcase his physical traits well at the combine and putting his tape on tells me that if you don't nab him Day 2, you're not going to have a shot at him.

Round 4 Pick #112 - Haskell Garrett, iDL - Ohio State - 6'2' 300lbs
Welcome to the pick that will cause the most diverse opinions amongst fans for sure. Haskell, has all the physical tools it would seem. Haskell has the character of a guy you want, stepping in to stop a domestic situation ultimately being shot in the face (recovered fine). BUT, ask any Ohio State fan that watches games every weekend and most will tell you it feels like Garrett has left SO MUCH more there. So it depends what you see: some will see a guy struggling to figure out precisely what he is (is he a true 3T or his a gap control type)....others will see that he has answered both calls at his time at Ohio State, just not to perfection for sure. Personally, I love him being in a room with Clark and Keke and Slaton. Admit, some are going to argue this is early, others late for this prospect. He truly is that type it seems.

Round 4 Pick #132 - Jeffrey Gunter, EDGE - Coastal Carolina - 6'4' 260lbs
Gunter has had an interesting path, two years at Coastal, only to transfer to NC State - sat out 2019, came back to Coastal and has excelled in his role at CC. Entering 2021, while he has excelled - many of his fans wanted to see a better fluidity and flexibility in his body - something which is what popped off the screen about Gary in college as an example. His countering ability is his rawest, but if he can increase his offerings in rushes and especially an ability to transition mid-rush there is zero reason Gunter cannot excel at the next level. Another gem to polish and add important depth in a position of crucial importance to our success.

Round 4 Pick #135 - Sam LaPorta, TE - Iowa - 6'4' 250lbs
While his blocking is not elite, if it were he would be gone, he is from a system where his growth in blocking as increased with each year and 2021 so far I have loved what I've seen (albeit in three specific games I watched of Iowa) out of him. Lewis cannot play forever, Tonyan just suffered an injury that is a coin toss in what he will become and Deguara is NOT the TE type to replace either. LaPorta is about the future at a position which we desperately need to build the future for. If LaPorta is there this point in Day 3, I'd not be mad with the pick or the thought one bit.

Round 5 Pick #172 - Jaquarii Roberson, WR - Wake Forest - 6'1' 182lbs
I foresee Gute pumping at least two new WRs into that room in some fashion (more with UDFA). I do believe he has wanted to upgrade but it just hasn't worked fiscally or made sense in his mind. A lot depends again as I said with the Bell pick, what is the QB situation....but arguably that will impact the top picks not so much Day 3. Jaquarii offers excellent speed and has produced exponentially well for the Demon Deacons this season. High target rate, with over 6 receptions this year on seven different times, he did that feat in 7 out of 9 games in 2020 as well. I'm not saying his is a Van Jefferson type route runner, but his shifty and quick feet make his route running ahead of most prospects for sure and I'd love to see him get to work with NFL coaches a bit and grow. He is the perfect type WR pick on Day 3 IMO and should we hit Day 3 without a WR picked, he would be towards the top of my board for sure.

The part I hate about this mock is the lack of secondary help. With so much unknown at CB, does Rasul get resigned....King leaves finally...what do we do with Sully...is SJC going to grow into more....do we need to force a S depth pick or is Black and Scott progression going to continue. I just don't like leaving Day 2 without possibly someone in the secondary. Now if the team by the time the draft has rolled around has done what I hope and found a way to structure a Jaire contract and also a Rasul resigning...I breathe easier here.