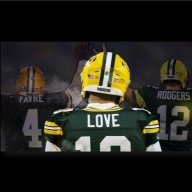 Joined

May 2, 2012
Messages

6,371
Reaction score

1,025
It's early, however with college seasons up and firing on all cylinders of course many of us are already itching to discuss draft prospects and potentials. A lot is set to change for Green Bay next off season from needing to shave $50M roughly and the looming Rodgers/Adams saga as well as guys like MVS and Tonyan hitting FA if we let them.

This thread specifically though, is for college prospects we like and feel will fit a need for Green Bay.

I predict OLB is going to be high on the board for Gute and others as there is a chance Russ and Gute attempt to cut fewer players to make up more money and both Smiths are gone...one is for sure.