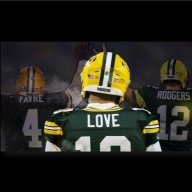 Joined

May 2, 2012
Messages

11,623
Reaction score

3,478
Everyone knows I "mildly live" for all things draft related. From building my own boards, opinions and lots of mocks.....but the 2022 Draft specifically intrigues me perhaps the most, it is like an amped up 2021 draft. So many question marks exist before the organization from serious cap issues to the Aaron Rodgers issue still very likely to be addressed one way or another this off season. So in a hypothetical exercise essentially we see a few things heading into the draft.....which while things won't change the big boards Gute and company holds, it most definitely could change the positions needing to be targeted or addressed to the point of two equally ranked guys essentially and picking between them.

Scenario #1 - We work things out with Rodgers, we make some hard cuts and contract re-workings to make the cap work and roll...
In this scenario Love may even be gone as a way to signal to Rodgers yes, let's ride this into the sunset together. If we do this personally I'm hitting the draft almost purely with a best player available approach and don't feel pressed to lean towards a position group or side of the ball. That said, this scenario has a MASSIVE question mark in does this mean somehow we pull off keeping Davante around? If no, I personally am strongly looking to offensive skill positions (WR/TE) early and very well could be 2 of my first 3 picks. Adams is a role in this offensive that will not just be easily absorbed, finding a true blue stud WR in the draft would go a long way to make this possible.

Scenario #2 - The end of the Rodgers era occurs...Adams walks too...cap cuts occur and we enter the attempted "rebuild/regroup" with Love era...
In this scenario, personally I'm hoping to build a top 10 defense as my main goal. Excellent defenses can and have still proven to keep teams in the hunt despite a young QB going through growing pains. It could keep us out of plummetting to the bottom of the league though which might make it harder to replace Love should he illustrate not being the future - but that is a roll of the dice I'm willing to take. With excellent DBs on roster, I want to flood the front 7 defensive rooms with young and skilled hopeful studs. DL, EDGE and ILBs take my leanings at picks. We have an excellent core young group of OL, so nothing needs forced there either this draft. I still argue you don't ignore BPA, but need IMO in this scenario perhaps deserves a little more weight in decisions than I'd regularly do myself. The one good thing is if the Rodgers era ends, most likely some draft equity is coming back our way....so a weapon or two mixed in for Love isn't out of the option as well depending on draft equity return.

Either way...hopefully we watch the SB clock tick to zero and we are all smiling and celebrating....but once days become weeks - there is a lot of news and decisions set to come out of Green Bay, and for us fans it's going to be NUTS.