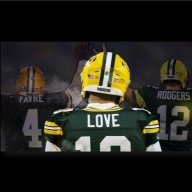 Joined

May 2, 2012
Messages

11,623
Reaction score

3,478
So some drafts offer more meat on their bones in different ways....the more I delve into the draft, the more and more I realistically see vastly WAY too much value in trading back out of our 1st rounder.

The likely positions of need in tiers are:

MOST DIRE NEED
Replacement for King's role opposite of Jaire. I don't think we have the answer on the roster.
Interior defensive trench guy for help to Clark. As of late this group is doing well and Keke surging helps greatly but this position is a weakness and needs shoring up.

SERIOUS NEEDS TO CONSIDER
WR depth behind Adams....especially that shifty slot, yac type guy...we have the big possession WR type covered.


NEEDS if cuts go as I feel
*Edge if Preston gets cut - which is fiscally a likelihood
*MLB depth/starter assistance - due to Kirksey most likely getting cut as well

Depending how Jones, Williams, Tonyan and Lazard contract situations play out...the skill positions could go from need depth, to need serious help.


Once you get through the elites of the CBs and DLs you have a grove of round 2 and round 3 guys that I'd argue could easily come in and be an instant #2 type at either position. Some of my favorite CBs in this range are (in no specific order)

Asante Samuel Jr
Craig Newsome
Derrion Kendrick
Paulson Adebo - schematic worries for me here, but like him
Isreal Mukuamu
Keith Taylor
Ambry Thomas

Some iDLs I like in that range:

Tyler Shelvin
Christian Barmore
Jaylen Twyman (LOVE THIS GUY)
Alim McNeill
Jordan Williams
Dante Stills (REALLY LIKE HIM TOO)

Entering the 2nd round I'd bet 60%-80% of that list will still be there...add in the fact the WR type I'm hoping to add offers some great deals in the 2nd-4th round I just don't see the need with our roster to pick in the 1st.

Would love to see a trade back for a 2 and a 4...enter the second round with two 2nd rounders and three fourth rounders to watch and pounce on guys picks 50-140

Example...I did a mock aggressively trying to make this happen...few teams I kept eye on when trying to trade up were the Lions, Cardinals, Seahawks and Eagles...all of them have very limited number of pick totals and could be looking to add draft pick equity.

I traded back first from 31st to Washington...In essence they gave us their 2nd round 51st pick + 4th round pick 120 for our 31st AND we swapped 5th round picks (their 159 for our 179). A fair trade and quite possible given they did so to acquire Kyle Trask at the end of the 1st round (5th year option makes a lot of sense for them to have).

At pick 51 we then get the still available Asante Samuel Jr...Shelvin and Barmore plus Kadarius Toney get serious consideration to name a few...but let's hopefully lock up Jaire's help with King walking.

Then at pick 63 we nab Jaylen Twyman...a guy I seriously think is 1st round caliber had he not opted out this year. Clark and Keke and him...yikes LET'S GO

Now with equity built up the temptation to get our dynamic playmaker on offense and WR help is too much and I truly believe Gute is going to do a move for offensive talent this year...we trade up to grab Kadarius Toney at pick 69. The trade takes our first two 4th rounders and a 5th in order to swing up - and again we swamp 7th rounders (sliding up a tick in that round). This leaves us still with a single pick in all the 4th/5th/6th and two 7th rounders.

Round 3 pick we kept and don't trade we spend on Rashad Weaver.

The aggressive approach keeps going, not needing insane OL depth, but with the likely Linsley departure and Wagner up for cut fiscally...Gute makes a slight move up in the 4th from pick 137 to pick 120 to grab Tyler Vrabel - a solid pedigree tackle that has the ability to possibly play RT or swing inside to a guard spot. It costs us Pick 137 and Pick 214 (6th rounder) and just happens to be with the Eagles as was the first pick...this makes a lot of sense because anyone following the Eagles situation knows they're in a fiscal NIGHTMARE and having a ton of draft equity and cheap rookie contracts may save them.

We stand pat and spend our 5th (159) on Tre' McKitty TE and our 7ths on Whop Philyor (WR) and Quentin Lake (S).

Whether the move back is to set up Gute to grab a WR...RB...CB....iDL...or EDGE...this draft to me has an insane sweetspot between picks 50 - 140 across the board...and to me Day 3 WRs are deeper this year than the Day 3 guys of 2020 just to touch on one specific position. I do believe OTs are weaker Day 3 this year than last, but iOL seem stronger Day 3 than they were last as well.