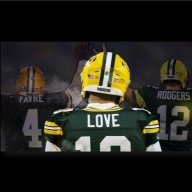 Joined

May 2, 2012
Messages

11,616
Reaction score

3,476
CB discussions!

More to be added, however here are my favorite top tier (thinking 1/st2nd Round) CBs to replace King with. Now this is in a scenario of discussion where we do not trade up...so realistically by the time 30/31 rolls around I expect Surtain, Farley, Horn and Stokes to all be gone for certain.

Greg Newsome II Northwestern - This cat has my love and affection in this group, I'll just be upfront with my biasness - and I know I'll catch flack for ranking him higher than some would. He's a 6'1' - 190lb with excellent length along with that height. He relishes the challenge and chance to go up against the opponents #1 weapon and shut him down. His coaches regard him as being the "zero maintenance" type guy that ignites when on the field and is task oriented in every aspect. I don't expect him to showcase a top flight CB 40 time, he won't be slow, BUT watch his tape, watch his instincts - watch his quickness. Top end speed after a 5 or 10 yards can be negated if you beat your opponent in the first two yards...I predict he will show very well in the cone drill (if he does it). I loved Jaylon Johnson who ran a 4.5 and 7.01 cone last year also - picked as PFF's second best rookie CB...I like Greg more. Walks in Day 1 as the second best CB in the room.

Paulson Adebo Stanford - While this isn't a ranked thing, I know I'll catch flack but I like Adebo's projection more than Asante Samuel Jr. (next) - not because I think he is a better CB at the moment, but I personally sense what he is set to become could be much higher. He's tall 6'1' and 192lbs with exceptional arm length it appears (purely based of eye, no measurement I could find). Like Newsome very heady defensive back that at times will make plays purely on his IQ and not his skillset...but that doesn't mean he is lacking at all when it comes to skills. I'd argue his hips are touch looser and quicker than Newsome, which is why in off ball scenarios one could argue his agility shines better...but don't get me wrong, both he and Newsome are athletes capable of play press man or zone and shine in any system (Pettine or not). Like Newsome, I believe he walks into the opposite outside position of Jaire without question.

Asante Samuel Jr FSU - Samuel is arguably the one closest to what I perceive as his ceiling out of this entire list of mine out the gate. Dude can straight ball, has zero fear and has a nasty edge to him that I kinda like - so long as it doesn't lead to boneheaded outcomes. His frame says he is an inside CB...but his play says don't be shocked if he stars outside at the next level. VERY explosive hips and ability to mirror receivers is his best ability in my opinion. While he will lose some 50-50 balls, he will rarely be burned and should be on the receiver at point of a catch if one is allowed with his mirror ability. Last year, a guy like him shoved inside of King and Jaire I'd have LOVED....knowing full well we have to have a surefire outside CB to replace King most likely is the ONLY hesitation on Samuel for me...where exactly will his home be. I'll be ecstatic if we sign him, but anxious to see how he plays out.

Tyson Campbell Georgia - 6'2' and 185lbs this cat is the body profile spit out if the NFL had a cornerback machine to produce prospects. He reminds me of that WR that just couldn't learn to watch the ball in or track it well. His feet are swift, he is nearly always in the exact position you want a CB to be in when the ball is released but I swear he leaves INTs on the board with his ball judging skills. I don't care though in the end, just don't let the WR make the catches and we're good. Where as Adebo and Newsome will at times make plays due to their Football IQ and instincts, Campbell always strikes me as a guy that relies on his raw skills (which are ample) to make plays rather than his IQ or anticipation. Still WELL worth a pick depending on how this position has shaped out leading to the pick...I wouldn't take him in the 1st, but also don't expect him to make it to the end of the 2nd either.


Guys I love but not for us:

Shaun Wade Ohio State - Only way I'm targeting Wade is if we resign King and let Sullivan go without a contract offer/signing. Wade to me will excel in big nickel coverage options and safety otherwise. I just don't see his fit on our team as I see the 2021 roster filling out DESPITE me really liking him.


Next tier type guys I'm intrigued by:

Kary Vincent Jr LSU - Now most folks show Vincent in that 3rd at the earliest category...whether it be because of his size (5'10' - 189lbs) or a few bad showings against VERY high talent (SEC play baby)....or just LSU having an abysmal year not helping it - I actually like what I see out of Vincent. HOWEVER, this would be a reach to find an outside option...as he seems to fit that rover Raven Green/Sullivan nickle slot corner type guy and not outside as naturally as one would hope. That said his hips are lightning fast, his willingness to attack the ball in the air and confidence in himself lead me to think there is a chance he may shock people with how well he would do outside.

Rodarius Williams Oklahoma State - I like his versatility. Ample tape of him playing one hand jamming sequences, but is very comfortable in off man coverage situations predominately. He is a little reluctant to attack throws under him, and his hands aren't anything special at all. Just an athletic specimen that projects to be a guy that wouldn't shock folks to become a stud, or constantly be that guy everyone keeps seeing glimpses of and hoping to explode and never does (think Josh Jackson presently).

Keith Taylor Washington - I've predicted him in a few of my mocks to us...in comes a Washington husky as out goes one (King). But this cat is a beast of a man at 6'3 and 195lbs....shockingly still quick and athletic in such a frame. He's played inside, outside...used in blitz packages often, VERY willing tackler and is just versatile in what he offers. That extreme versatility though comes at a cost...his ceiling may not be very high. Keep an eye on how he tests, he is a guy I could see be a serious riser depending how his measurables shake out to be.
Last edited: